Raised Vegetable Garden
Beds for Your Home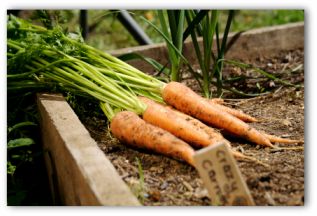 Download our free plans for raised vegetable garden beds for small space vegetable garden layouts.
Designs for building a raised garden bed can be just the help you need to start your own small garden today.
Design Your Own Vegetable Garden Layout Using our Free "Vegetable Garden Planner" Software!
Building Quick & Easy Raised Vegetable Garden Beds:

A Saturday Project with the Kids

Are you wondering if raised vegetable gardens are the best way to create a vegetable garden?
Many gardeners love the convenience of having their garden up and off the ground!
When planning a vegetable garden, there are several key factors to consider.
Where can you plant a garden?

Find a sunny, level location. 
Decide how much garden space you are willing to plant and care for.

This is where the gardening fun begins!
Small Space Vegetable Garden Benefits

Download Free Garden Planning Worksheets, Garden Diary, Zone Chart, Or Planting Guide
Some advantages of building a raised bed are ease of planting, tending, and harvesting your home vegetable garden.
Designing a raised bed garden is a simple project that can be accomplished in a weekend.
Borders for your garden can be made of wood, stone, bricks, cement, cement blocks, or decorative stone.
If your garden will be located in a prominent position in your landscape, consider using decorative brick or stone.
Benefits of a Raised Garden Bed

Few Weeds to Deal With!

Raised garden beds are a good solution for ridding yourself of weed trouble. 
Raised garden beds are super-easy to care for.
Can be Planted Earlier than In-Ground Gardens!

Another benefit is being able to plant your garden early. A raised garden bed warms earlier in the spring than in-ground garden soil, and can therefore be planted earlier. 
Raised vegetable gardens can be covered with black plastic in the winter, to further enhance the soil-warming process.
Choosing Your Raised Vegetable Garden Bed Location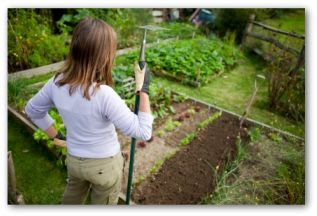 Locate your raised vegetable garden bed in an area that receives full sun.
If possible, layout your garden from north to south. Raised gardens are perfect for small space vegetable garden layouts.
Your garden can be any length you want, but should be no more than 4 feet wide!
You want to be able to reach the center of your garden bed from either side without having to walk in your garden bed.
Aside from structures, surrounding landscape, and trees, there are a few other factors to consider in determining a raised vegetable bed location.
If possible choose a plot of ground that is level.
If your vegetables gardening area is on a slope do not despair!
Sloping land can be leveled when building raised garden beds.
Also, be sure that you have convenient access to water when choosing your location.
4' x 20' Raised Bed Garden Plan

This sample garden plan can be lengthened or shortened to fit your available space. You can also substitute other vegetables that you may prefer to grow.
Square Foot Raised Garden Bed Layout and Design

Click Here for a Free Square-Foot Garden Plan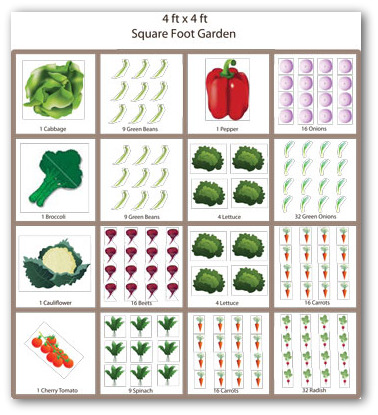 This is a great small garden plan if you are short of space, or are a beginner at gardening!
Building a Raised Garden Bed Frame

Mark the outline of your raised garden bed on the ground using small stakes and string. 
Build the garden frame using the type of material you have chosen.
Line the bottom of your garden with landscape fabric, or a thick layer of newspapers if desired.
This will help keep weeds from growing into your beds from the ground underneath. 
It is not necessary to remove existing grass or lawn when building your raised bed if you provide a lining. 
Fill your garden with high-quality gardening soil. 
It should be a mixture that includes compost, vermiculite, peat moss, and fertilizer. 
One key to gardening success is moist, loose, and fertile soil that can be easily provided in raised bed gardens.
Planting a Raised Garden Bed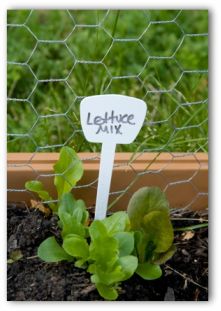 Follow planting instructions on your seed packets and small transplants.
No need to waste garden space by leaving room for pathways.
Just fill the entire raised bed with vegetables!
Try planting a few marigolds, nasturtiums, or other colorful annuals around the edge of your garden bed.
This brightens up your garden, and gives a beautiful focal point for your garden.
Weeding and Tending Raised Vegetable Gardens

This can be ridiculously easy, as most of the work is in the beginning when you build your garden frame. After that, it's all a downhill coast!
For raised vegetable garden beds, use a hand fork or tined tool to any weeds that may sprout. I think my garden only sprouted two or three weeds last summer.
Be sure to provide adequate water after planting your garden. Water in the morning if possible. Evening watering can cause some plants to get mildew or other plant diseases.
Putting Raised Vegetable Garden Beds to Rest for the Winter

At the end of the summer gardening season, plant fall vegetables such as cabbage, turnips, and beets in your garden if desired.
Or you can put your garden "to bed" for the winter, by removing plant debris, and putting a layer of compost or straw on top of your garden to break down during the winter months.
You can see how simple and fun raised vegetable garden beds can be!
They are great for beginner gardeners, and anyone who doesn't have a lot of time to spend preparing and caring for an in-ground garden.
They can be beautiful, and functional as well.
A raised garden is a great project for the entire family to enjoy!

You Might Also like to Read: