How to Grow a Garden eBook

Vegetable Gardening eBook, with Planting Guide, Zone Chart, Garden Diary, Worksheets, Sample Garden Plans, and More
Good news for those of you wanting to learn how to grow a garden at home!

Find Answers to the Top 27
Gardening Challenges & More!
I have been gardening for almost 50 years! (That makes me sound really old; but let's call it "experienced" instead!)
I learned everything I know about how to grow a garden from my parents, grandparents, aunts and uncles who were all avid vegetable gardeners.
At last we offer the best vegetable gardening tips and information, worksheets, diary, and free garden plans, from many many years of experience, in an easy-to-download electronic eBook format!
This convenient and easy-to-use gardening guide and worksheets will make planning your garden a breeze...
Conquer 27 Gardening Challenges that Steal Your Time, Sanity, & Money!
Are you a beginning gardener who needs basic information and "how to" help with planning your garden?
Or are you an experienced gardener looking for the best tips and ideas for growing an even better garden?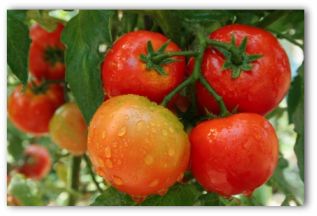 1. How can I plant a productive garden in a very small space?


2. Can I really grow abundant vegetables in a container garden?


3. Is there a way to plant a simple easy-to-care-for garden?


4. Do you hate to weed your garden, and want to find ways to make this dreaded task easier?


5. Are you tired of struggling to move hoses and sprinklers, and want to find an easy way to get the watering job done quickly and effectively?


6. Are your tomatoes big and bushy, but don't produce much fruit?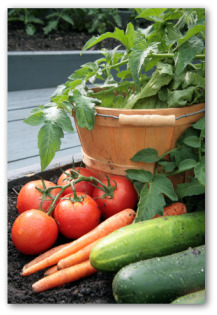 7. Does building a convenient raised bed garden really save time and effort?


8. Is there an easy way to build a raised bed garden?


9. Can garden pests be controlled naturally without resorting to chemical pesticides and insecticides?


10. Is mulching a garden worth the extra time and effort?


11. Is it safe to home-can extra vegetables from my garden?


12. Is there a trick to freezing extra produce from my garden?


13. Why will keeping a garden diary be worth the effort and more?


14. How deep should my garden seeds be planted?


15. How far apart should I space my garden vegetable plants?


16. Does it save time to start garden seeds indoors before planting time outdoors?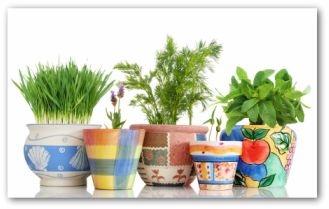 17. How should I handle transplanting seedlings in my garden?


18. Can I plant my garden in a shady location?


19. How do I keep animal pests out of my garden?


20. How often should I fertilize my garden?


21. What type of fertilizer works best?


22. How often should I water my garden?


23. Is it best to water my garden in the morning, or at night?


24. How do I know the best time to harvest my vegetables?


25. How do I store or preserve vegetables for winter use?


26. When is the best time to plant a vegetable garden?


27. What do I do if an unexpected frost arrives after I have planted my garden?
All these vegetable gardening questions and many more are answered in The Best of Vegetable Gardening Online eBook!

Buy it now for only $9.97!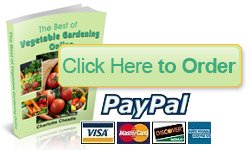 What is an eBook?
Page 1 Table of Contents
Click Here to view the table of contents
Sample Page of the eBook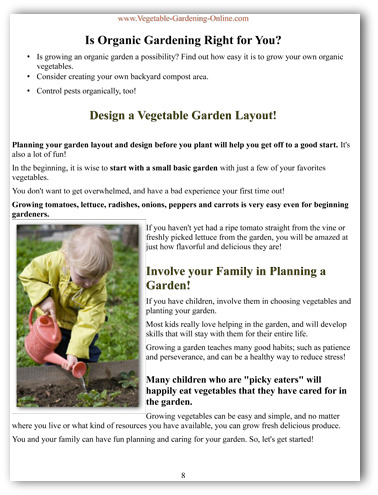 Please note that you are not purchasing a physical book.
This is in eBook format only; meaning you will be able to download it to your computer straight from the email link that you receive after placing your order.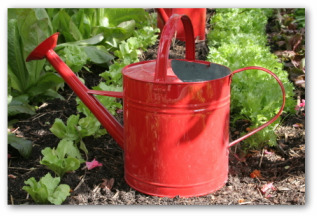 If you wish, you can print the worksheets, diary, garden plans, or the entire eBook from your own computer after you have it downloaded.
What do I get?
You get all of the most popular vegetable gardening articles with all the "how to grow a garden" information you need, all of the worksheets, garden planting guide, zone chart, diary and sample vegetable garden plans.
All this helpful and practical information is compiled into an easy to use and well-organized eBook in PDF format.
There is a simple Table of Contents that will tell you where to find each article, worksheets, planting guide, diary, and sample garden plan in the eBook.

Buy it Now for only $9.97!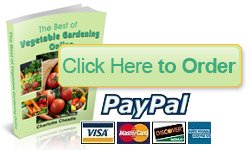 All the Gardening Information
You Need to Know Organized
in One Easy E-Book


The Best of Vegetable Gardening Online eBook Contains the Following 28 Chapters All About How to Grow a Garden:
1. Introduction to Growing a Garden at Home

2. Basic Vegetable Garden Planning

3. How to Grow a Garden

4. Container Vegetable Gardening

5. Raised Bed Gardens

6. Square Foot Gardens
7. Starting a Vegetable Garden
8. Best Time to Plant a Vegetable Garden
9. Small Vegetable Garden Ideas for Beginners
10. Planning a Garden Layout
11. Vegetable Gardening Tips
12. Vegetable Garden Planting
13. Companion Planting
14. Mulching and Your Vegetable Garden
15. Watering Your Vegetable Garden
16. Fertilizing Your Garden
17. Growing Cucumbers
18. Growing Tomatoes
19. Growing Carrots
20. Growing Onions
21. Growing Potatoes
22. Growing Corn
23. Growing Green Beans and Other Beans
24. Growing Broccoli
25. Growing Lettuce
26. Growing Strawberries
27. Canning Vegetables from Your Garden
28. Freezing Vegetables from Your Garden
Plus...
Worksheets for Planning Your Garden


Vegetable Planting Guide


Zone Chart


Garden Diary


Sample Garden Plans


Extra Tips not Given on the Website


All with...
Easy-to-use Table of Contents


Rights to give free copies of this eBook to friends, family, and colleagues
Buy it Now for only $9.97!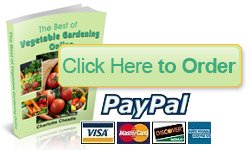 Why should I buy the ebook?
It's very convenient!


Saves time that you can use for actually designing and planting your vegetable garden!


You can share this eBook with friends and family who garden.
This eBook makes viewing the most important information about how to grow a garden, and all of the worksheets, planting guide, diary, sample garden plans from this website much easier.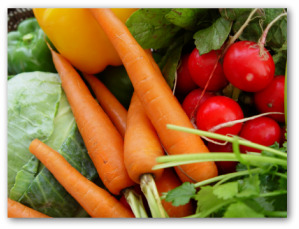 Once you purchase the eBook, you can view all of the most sought after information and worksheets from your home computer without having to visit this website to view them.
You can also email the eBook to friends or to other computers that you use, so that you can view them from anywhere at any time--without an internet connection.


Can I print it out?
Yes.
After you purchase the Best of Vegetable Gardening Online eBook, you have the right to print out all of the pages and distribute them to any friends, family, or colleagues, or use them for your personal use.


Can I share it with friends?
Yes.
When you buy this eBook, you are given permission to email it, or give printed copies of it to your personal friends, family or colleagues.
You are not allowed to give it away to the general public (people you don't know personally), and you are not allowed to re-sell it to others--only give it away for free.
If someone you know pays you a few dollars for the paper and ink if you print it for them, that is fine.


I am a teacher. Can I use the eBook in my classroom?
Yes.
If you are a teacher in a grade school, high school, or college and are teaching students how to grow a garden and related topics, you can give free copies of this eBook or the worksheets, sample garden plans, etc. contained within to all of your students.
You may also use it for any teaching-related purposes. You may not sell it to students.


Can I put this information and these worksheets on my website?
No.
You cannot put this information on your own personal website, or your business' website. It is only free to view at vegetable-gardening-online.com.


How do I get the ebook?
When you purchase the Best of Vegetable Gardening Online eBook, you will be asked to enter an email address where I can contact you.
After you place your order, you'll immediately be emailed a unique website link that you can click on to download your eBook.


How much does it cost?
The whole eBook on how to grow a garden, plus all the worksheets, diary, planting guide, sample plans, and zone chart is offered at an introductory price of only $14.97.
This is special introductory price (Regular Price $19.97) that will expire after June 1, 2010, so be sure to order your copy today!


Buy it Now for only $9.97!