Growing Corn In Your
Home Garden

We offer free plans for growing corn in home vegetable gardens!
Also, tips and information about raising sweet corn in a backyard vegetable garden.
Planting corn in your home vegetable garden is a great idea if you have a little bit of extra garden space.
Free Garden Plan for
Growing Corn

Click Here for 20X40 Sample Vegetable Garden Plan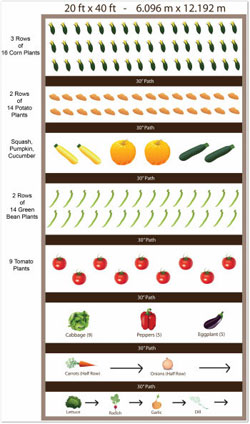 Corn Germination, Growing Time, Spacing

Corn seed germination takes 7-10 days.
From seed to harvest is 60-95 days.
Plant 3-4 seeds in each hole, in individual rows, spaced 12-18 inches apart.
Plant Corn in Blocks to Ensure Pollination

Corn is cross pollinated; therefore sow by planting in blocks to ensure that no matter which way the wind blows, pollen from the plants' tassels (male flowers) will pollinate the ears (female flowers).
Plant a block of several rows to ensure pollination.
Corn Planting Tips

Growing corn is tender to cold temperatures and may be damaged by frost.

Download our planting guide and zone chart to determine planting dates in your area.

Corn needs rich moist soil for the best production.

Add organic matter and fertilizer to soil before planting.

Due to pollination requirements, the minimum for small gardens is 16 sweet corn plants, planted in four rows of four plants each.

Spacing between rows should be two to three feet.

Plant 3-4 corn seeds in each hole at a depth of 1-2 inches, and step on the soil where you have placed the seeds to pack it down.
Growing Organic Sweet Corn

Sweet corn can be grown by organic vegetable gardening.
Either purchase or use your own organic compost or fertilizer to enrich the soil when growing corn in your vegetable garden.
If you select a variety of corn seeds from your local garden center that is ideal for your climate and location, you will not likely have any reason to need to use pesticides or insecticides when growing corn.
Common Sweet Corn Plant Pests

Major pests are caterpillars and a common disease is leaf spot.
However growing corn in your home vegetable garden is usually easy and trouble free.
Caterpillars feed on corn stalks, foliage, and ears of plants.

During the heat of the day, they often hide among the leaves.

They are more likely to be a major threat in the fall than in the springtime.

If after removing the caterpillars one by one, they are still getting out of hand, try natural bacteria repellent.

As the insects ingest the bug spray, they stop feeding, and disappear in a few days.

Growing corn can be susceptible to fungal organisms that cause leaf spots that flourish in warm and wet weather conditions.

Use resistant corn varieties when possible.

Keep leaves dry by directing water to the soil surface if possible.
A corn crop that produces tiny cobs usually results from insufficient fertilizer.

Corn growing in sandy soil should be fed every two or three weeks with a complete or high-nitrogen fertilizer. Plants that grow tall but have small partially filled ears may be lacking in phosphorus.

Use a balanced fertilizer like 12-12-12 or one with a greater percentage of phosphorus.
How to Care for Your Sweet Corn Plants

Water when the top layer of soil begins to dry.
Apply ½-inch or more of water to moisten dirt thoroughly during early morning hours.
Use a timed sprinkler system if this watering schedule is difficult to manage.
At harvest time, peek at the cobs to see whether the kernels fill the husk.
When the kernels are plump to the tip of the ear, harvest may begin.
If the kernels appear large and starchy, the corn is past its prime.
Corn plants do not produce well if they are overcrowded, lack sufficient water, or poorly pollinated.
To avoid these problems, plant in blocks, thin plants to the proper spacing and keep soil moist.
The Best Part!

Harvest when ripe, then shuck, cook, and eat or freeze it immediately!
On the stalk, corn becomes overripe in a few days.
The best tasting corn is fresh picked.
One last piece of advice to cooks that I learned the hard way, is don't overcook your corn!
Put one or two inches of water in the bottom of a large pot, bring it to a boil and steam your corn for 10 to 12 minutes.
It will be perfectly cooked.
Add melted butter and a sprinkle of salt, and mmmm, delicious!
Sometimes in the summer when the corn is ripe, we have only corn on the cob for dinner.
Some of us can eat 4 or 5 ears of fresh corn as a perfect summer meal!
Tips for Growing Corn

It does take a considerable amount of space when growing a big crop of sweet corn in a backyard vegetable garden.
However, corn on the cob can be grown in a small garden if you plant a block of at least four rows of corn with four hills each. (This is necessary for cross-pollination to take place.)
Design Your Own Vegetable Garden Layout Using our Free "Vegetable Garden Planner" Software!
The plants grow tall and you will need 15-20 corn plants per person to satisfy a hungry family!
If you have only eaten fresh corn from the grocery store, you are in for a huge surprise when you taste corn fresh from your garden. It is amazingly sweet and delicious!
It is sweet and tender only when freshly picked, as the sugar in the corn kernels begins to turn to starch immediately after being picked.
The ideal time to eat corn from your backyard garden is about 10 minutes after it has been picked!
Unfortunately, due to its size, space, and pollination requirements, corn cannot be easily grown in very small vegetable gardens, container gardens, or raised vegetable gardens.
Recommended varieties for growing sweet corn in-ground are Silver Queen, Gold Cup, Bonanza, and How Sweet It Is.
Download Free Garden Planning Worksheets, Garden Diary, Zone Chart, Or Planting Guide
You might also like to read: