Vegetable Planting Calendar

Download our Free Vegetable Planting Calendar and Zone Chart to Help Plan Your Garden!
Follow our quick vegetable planting calendar for when to plant each type of vegetable in your garden. Timing is everything, especially when planting tender vegetable plants such as tomatoes, green beans, corn, cucumbers, and pepper plants!
One surprise frosty morning after you have planted your warm-weather vegetables, and you may have to start your garden all over again!
If you do have a later than usual frost after you have already planted your tender plants, you can always protect them temporarily by covering them with an old sheet or length of cotton fabric.
Cover plants with fabric instead of plastic, as the plastic will more easily transfer the cold onto your plants.
You can also cover tender plants with turned-over baskets, buckets, or flower pots; however leave air-space between the plant and container so that the container doesn't transfer cold to the plant foliage.

Click Here for a Vegetable Planting Calendar
Click Here for a Vegetable Planting Guide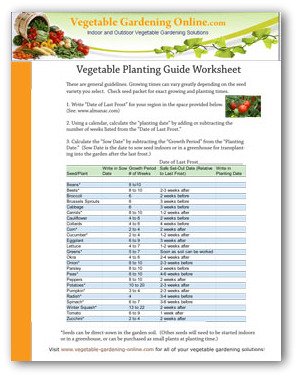 When to Plant a Garden

A container vegetable garden can be started indoors in late winter or early spring to be moved outdoors as soon as weather permits.

A raised bed vegetable garden, can be started a bit earlier than an in-ground garden, as the raised bed soil will warm more quickly than the ground.
In-ground gardens can be started in late spring with hardier plants such as lettuce and onions. Follow our vegetable planting calendar when planting frost-sensitive plants such as tomatoes, beans, corn, and peppers. These vegetables can be planted about two weeks after the last expected frost date, when the soil temperature is warmer; 60 to 65 degrees F. is ideal.

Design Your Own Vegetable Garden Layout Using our Free "Vegetable Garden Planner" Software!
Planning a vegetable garden layout that works for you, is key to your success as a beginner!
Vegetable gardening is an ongoing learning process, from planting a beginner vegetable garden to the most advanced design or layout.
With each successful season's harvest, a new adventure begins, bringing its own beauty and challenges to overcome.
So let's get started!
Vegetable Planting Calendar

Note: If you live where you can have freezing winter and spring weather, you may need to adjust the best time to plant the vegetable garden schedule below forward a month or two.
Your local garden center can give you general planting times for your climate, or use the planner we have provided below.
Download Free Garden Planning Worksheets, Garden Diary, Zone Chart, Or Planting Guide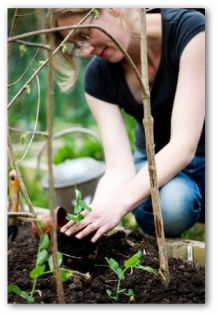 Free Vegetable Garden Plans

Check out our free vegetable garden plans if you would like some ideas for designing, planning, or layout for your vegetable garden!
Click Here for a Free Square-Foot Garden Plan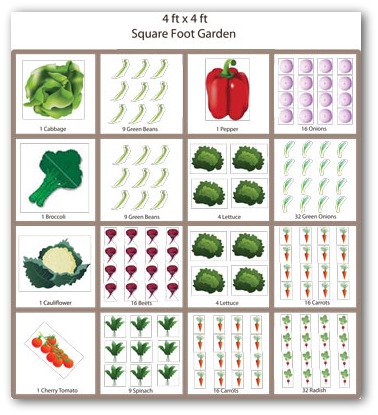 Vegetable gardening is a great hobby with many rewards.
So get started planning your garden now!
And if you have extra homegrown vegetables, share with your friends and neighbors.
They will be delighted, as there is no nicer gift to receive than fresh garden produce!
You Might Also like to Read:
Vegetable Gardening Planting Times