Planting Times for
Garden Vegetables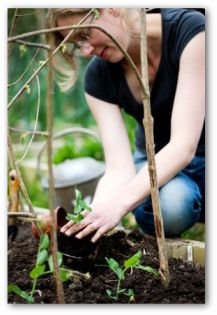 Download our free chart of planting times for garden vegetables.
Also, use our free vegetable garden planting guide, zone chart, garden plans and layouts to help plan your garden!
Do You Have a Question?

Do you have a vegetable gardening question?
Visit our Q & A page to ask your gardening question, and we will help you find a solution!
When are the
Planting Times for
Garden Vegetables?

Download our vegetable garden planting guide.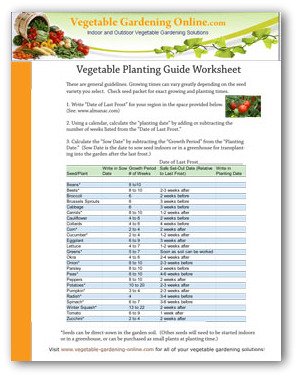 When planning your vegetable garden, it helps to get organized with a zone chart and planting guide worksheet.
This will help you plan your spring garden planting times.
Most garden vegetable plants are not frost-hardy, so it is important to know when it is "safe" to plant them outside.
I say "safe", because some years Mother Nature throws an unexpected late frost at us.
If your garden is already planted outdoors when this happens, hopefully you will be aware of the possibility in time to take some action.
If a mild frost is expected, simply covering each of your plants with a plastic jug, or a tin can, or a "hat" made of newspapers will likely be enough to prevent damage.
Planting Times for Vegetable Garden : Zone Chart

The zone chart will help you determine the "typical" date of the last frost in your area.
This date always varies from year to year, so be cautious if you are trying to plant your garden outdoors as early as possible.
You will want to be aware of potential late frosts before they happen, and take protective action towards your garden!
Planting Times for Vegetable Garden: Keep a Diary

It helps to keep a vegetable gardening diary from year to year when you garden.
Having basic information on hand about your previous gardens can be very helpful.
It is difficult to remember what happened from year to year without keeping a written record.
Download our free vegetable garden diary to keep a yearly journal of your vegetable gardening facts, figures, and adventures!
Planting Times for Vegetable Garden : Vegetable Garden Plans

When it is time to begin planning your vegetable garden layout, please visit our "Free Garden Plans" page.
We have sample vegetable garden plans available for download.
These plans can help you get started planning your garden.
All of the plans can be changed and modified to suit your gardening needs and preferences!
Whether you are deciding what type of garden to grow, or want specific information on building a raised bed or container garden, we have videos that can provide information and ideas that will help you plan!
Visit our videos and pictures page to choose a video that will be helpful to you.
Planting Times for Garden Vegetables to Vegetable Gardening
Planting Times for Garden Vegetables to Plant a Vegetable Garden
You Might Also like to Read:
Best Time to Plant Vegetable Garden