Growing Sweet Potatoes


in Your Backyard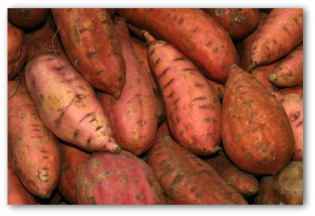 We offer the best tips for growing sweet potatoes when vegetable gardening!
Learn how to start, plant, and grow sweet potatoes in your backyard garden.
Design Your Own Vegetable Garden Layout Using our Free "Vegetable Garden Planner" Software!
Sweet potatoes make a delicious addition to almost any meal.
Long a favorite in the south, sweet potatoes have become increasingly popular in the rest of the country not only for holiday meals, but for any time of the week!
Starting Sweet Potatoes

Start out sweet potatoes from purchased slips or sprout your own.
Begin sprouting slips 6 to 8 weeks before planting outdoors.
Sprouts can be transplanted a few weeks after the last expected frost date when the soil temperature has warmed.
Sweet potatoes get a head start when you grow your own slips from the previous year's rootstock.
In the middle of March, as far north as northern Indiana, begin cutting the old tubers in half lengthwise.
Allow the tubers to dry and set the halves cut side down in flats full of moistened sand.
For six to eight weeks, keep them at 80 to 90 degrees F. shoots will begin to appear and develop leaves and roots.
Slips will be ready for separation from the tubers in early May when the sprouts are 4 to 8 inches tall and have four or five leaves.
Plant the slips in individual containers full of light textured soil, potting mixture, or compost and keep them inside at daytime temperatures of 75 to 80 degrees with nighttime ones no lower than 55 degrees.
Planting Sweet Potatoes

When outdoor soil is warm and dry in late May, set the pre-sprouted slips out at depths of 1 to 2 inches.
Water well in early August during tuber formation; yet otherwise keep the soil fairly dry.
The early start permits gardeners in colder climates to harvest ripe sweet potatoes immediately after the first light frost.
Download Free Garden Planning Worksheets, Garden Diary, Zone Chart, Or Planting Guide
Growing Sweet Potatoes

Sweet potatoes need full sun and adapt well to most soils.
The plants require moderate amounts of nitrogen and phosphorous and high levels of potassium.
Keep weeds at bay during the early stages of growth as the plants are becoming established.
Although named for their sweetness, the plants are also "sweet" to the gardeners as they can grow in poor soil conditions and are very tolerant to drought!
If the first frost is very light in your area, remove all blackened or damaged leaves and the sweet potatoes will continue maturing.
If the frost damaged leaves are not removed right away, the roots will take on a bitter taste.
By using black plastic mulch for raised beds, growers can double their yields of 3 to 9 inch sweet potatoes even in the northern states.
All sweet potato varieties take an average 120 days to mature from transplanting.
Vegetable Gardening Tips for Growing Sweet Potatoes

If you plant single crop beds and have a standard size for all your beds, you can take the following approach in figuring your seedling needs.
List all the plants you plan to grow in a column. Write down the required spacing used for each plant.
Calculate the number of plants it takes to fill your garden bed.
You can download our garden planning worksheets if desired.
In a glance you can see how many sweet potato seedling you should start or buy for the season.
* Northern gardeners growing sweet potatoes should select varieties suited to their shorter seasons.
* In general, sprawling plants are not well suited to inter-planting vegetable gardening methods.
However, sweet potatoes can be grown successfully in large beds along with pumpkins.
Pest & Disease Problems for Sweet Potato Plants

When growing sweet potatoes, pests such as nematodes, sweet potato beetles, sweet potato weevils, and wireworms cause problems mainly in warm regions.
Sweet potato plants may be affected by the plant diseases black rot, soil rot, soft rot, and stem rot.
Allgold is a variety that is resistant to stem rot.
You Might Also like to Read: