Freezing Corn From Your Garden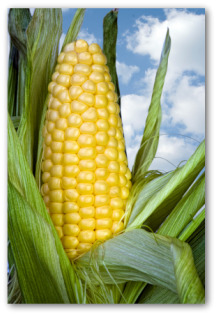 The best tips for freezing corn from your vegetable garden.
Design Your Own Vegetable Garden Layout Using our Free "Vegetable Garden Planner" Software!
Easy steps for preparing, blanching, and processing sweet corn for your freezer.
Includes tips for freezing cream style corn, and corn on the cob.
Freezing vegetables does not stop nature's clock from ticking altogether but the cold freezer temperatures do slow the natural deterioration of food considerably.
While freezing food may be more expensive compared to canning, it is by far the superior preservation method in terms of preserving nutrients and taste.
Download Free Garden Planning Worksheets, Garden Diary, Zone Chart, Or Planting Guide
Choosing Freezer Containers and Wrappers

It is important to use air tight packaging when freezing corn and other vegetables because air and moisture are the main culprits of frozen products.
Moisture loss occurs when ice crystals evaporate from the surface of frozen food, resulting in freezer burn.
Although, freezer burn is not harmful, it dries out and toughens food, and adversely affects appearance and the flavor.
Using moisture proof wrapping and appropriate freezer storage containers prevents food spoilage.
When freezing corn, it is packed without adding liquid.
The head-space allowance given in the following instructions is for plastic containers.
There is no headroom required when food is put into plastic freezer bags.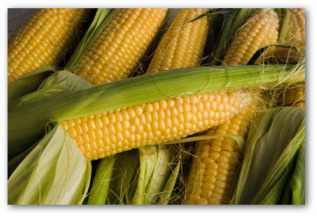 Time-Saving Corn-Cutter Tool

Corn can be cut from the cob handily using a knife, cabbage slicer, or you can use an actual corn cutter tool.
Corn cutter tools are very helpful if you will be processing dozens of ears of corn. Replacement blades are available for the corn cutter tool, as the blades should be replaced as needed to keep the tool sharp.
Freezing Sweet Corn

All yellow and white sweet corn varieties are good for freezing but 'Golden Cross Bantam' is outstanding.
The miniature variety is especially recommended for freezing on the cob.
How to Freeze Corn

Cut corn.
Process as soon as possible after harvesting.
Ideally, the corn goes straight from the garden, is husked immediately, and goes to the kitchen for processing.
Kernels should be full, yellow, and spurt thin milk when pressed with your fingernail.Remove all bits of husk and silk.
Trim off any spots chewed by borers and also any borers!
Follow the standard freezing procedures: Blanch for 5 minutes.
Chill thoroughly in ice cold water.

Use a sharp knife to remove the top two-thirds of the kernels.

Seal in containers.
After freezing the corn kernels, it can be stored frozen for 10-12 months.

To serve, cook for 2-4 minutes.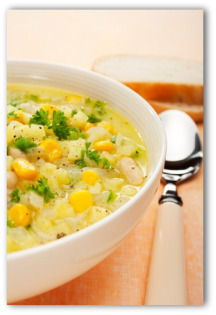 Blanching Sweet Corn Before Freezing

Scald 6 minutes for ears 1 ½ inches in diameter;
8 minutes if 2 inches in diameter;
10 minutes if corn ears are larger than 2 inches.
Cool quickly using ice water; drain, pack with no headspace if using freezer bags.
Freezing Corn--Whole Kernel

Husk, trim, remove silk, and wash ears of corn.
After scalding for 4 minutes, cooling in ice water, and draining whole ears, cut kernels from cobs at two-thirds their depth.
Pack whole-kernel corn with ½ headroom in plastic freezer containers.
Freezing Cream-Style Corn

Cream style is the best way to put up corn that has progressed beyond the milk stage.
Husk, trim, remove silk, and wash ears of corn.
After scalding for 4 minutes, cooling in ice water, and draining whole ears, cut kernels from cobs at about one-half their depth.
Then scrape what remains with the back of a knife to remove the thick juice.
Then the milk and the heart of the kernels are scraped from the cob and added to the kernels before packing, allowing a half inch at the top.
Freezing Sweet Corn On the Cob
Preparation Before Freezing-Corn on-the-Cob

In preparation for freezing corn-on-the-cob:
Select freshly picked ears in the early milk stage.
Husk, trim ends, and remove silk, wash.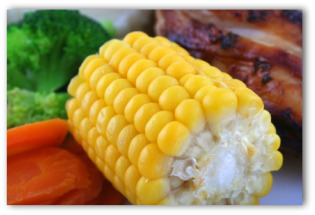 Pick young ears in the milk stage.
Remove all silks and bits of husk.
Blanch small ears less than 1 ¼ inch in diameter for 7 minutes;
Blanch medium ears up to 1 ½ inches in diameter for 9 minutes;
Blanch large ears over 1 ½ inches in diameter for 11 minutes.
Cool in ice water until cob is cold.
Pack small ears in containers or wrap large ears individually or in pairs first in plastic wrap, then covered with aluminum foil.
Frozen corn on the cob can be stored for up to a year at zero degrees if properly prepared and packaged.
Cook 4-6 minutes before serving.


Back To Top
Freezing Corn to Vegetable Gardening

Freezing Corn to Freezing Vegetables