Growing Herbs in Pots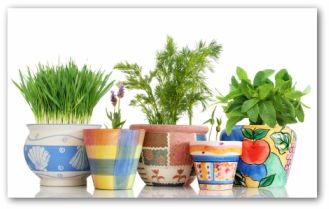 The best tips for growing herbs in pots. How to start both an indoor potted herb garden, and tips for planting herbs outdoors in containers.
Design Your Own Vegetable Garden Layout Using our Free "Vegetable Garden Planner" Software!
Planting herbs in pots and the history of herbs is as long as the story of mankind because people have used these plants for medicinal and culinary purposes since the earliest times.
Today we depend on many plant species for the manufacture of medicines and chemicals.
In herb container gardens, you can grow your own to add spice and flavor to homemade meals and for making home remedies.
Growing a Container Herb Garden

Even a small herb garden consisting of a few pots sitting on a sunny kitchen windowsill can supply a wide range of aromatic, tasty, and therapeutic uses.
An essential collection of herbs contains parsley, sage, thyme, mint, and rosemary with optional extras like lavender or sweet marjoram.
Thyme and lavender situated around the house as dried flowers or potpourri make inexpensive and efficient air fresheners.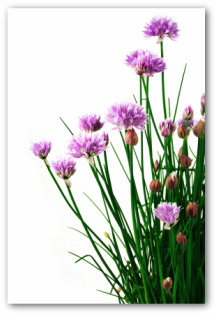 Download Free Garden Planning Worksheets, Garden Diary, Zone Chart, Or Planting Guide
Outdoor Herb Gardening in Pots

To what lengths you choose to take when growing plants in pots, depends on desire, available space, and climate if the pots are to be grown on a patio or terrace.
A fun part of designing your own herb container gardens is exploring the cultivation of native plants from outside your region.
Plants of tropical origin need warm walls or greenhouse protection in temperate regions.
Mediterranean herbs prefer dry, sun filled places similar to their natural environment.
Caring for Growing Herbs in Pots

Potted gardens are best when planted in a high-quality planting medium.
Slow release fertilizer can be added to the soil, or the pots can be fertilized weekly with liquid plant fertilizer.
Be sure the pots you use have adequate drainage holes.
The water should drain through the soil quickly, as plants do not like to grow in soggy soil.
Don't let the soil dry out completely, as it can be difficult to re-wet the soil.
If the soil becomes completely dried, try setting the pot in a saucer of water for 10 minutes so the water can be absorbed into the soil.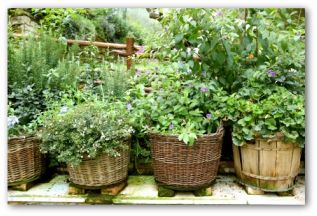 Why Grow a Container Herb Garden?

Not only grown for aiding in cooking or health treatment, herbs in pots bring a splash of color and can be used for decoration.
Many herb varieties have brightly colored foliage that can be arranged in containers to create an eye pleasing tapestry of contrasting or coordinating shades.
Herbs are also easier to tend than most choice ornamentals.
Many herb plants are multipurpose such as comfrey which grows pretty purple flowers and can be harvested as a compost activator for your vegetable garden or remedy for skin ailments.
Whether planted in window boxes or potted plants along a balcony, growing herbs in pots can liven up the view with natural beauty and provide secret ingredients for your signature dishes.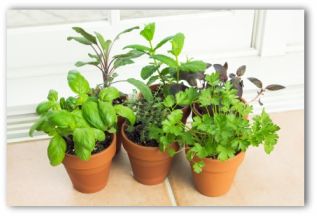 Medieval Herb Gardens for Spices and Medicines

In medieval Europe, country folk gathered harvests of useful wild plants. In monastic herb gardens, monks transplanted plants into organized beds and borders. Seeds from distant parts of the world were dried and imported as spices to increase the flavors and fragrances available to the few who could afford them.
Herbs have long been known for their usefulness in making teas, tonics, and ointments. Chamomile used to be called the 'plants' physician' for its ability to revive ailing plants nearby and deserves a spot when growing herbs in pots for that capability alone, besides the fact it makes relaxing and refreshing tea.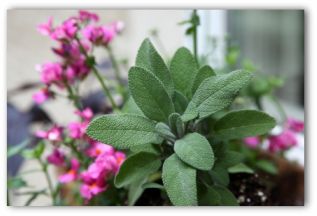 Lappia Dulcis

Lippia dulcis, a relative of lemon verbena, which was called the 'sweet herb' by the Aztecs.
It has been found to contain a substance that is a thousand times sweeter than sucrose.
In modern times, cultivating herb container gardens has lead gardeners to discover new species and increase our knowledge of the hidden qualities contained in the herbs.
Growing Herbs in Pots to Vegetable Gardening
You Might Also like to Read:
Growing Herbs in Pots to Container Vegetable Gardening