Free Vegetable Garden Plans, Layout, Designs, and Planning Worksheets
Download free vegetable garden plans, designs, and layout planning diagrams.
Are you planning a square foot, raised bed or traditional backyard garden?
One of these plans given below will work for you!
Download plans for a 10' by 10', 20' by 20', squarefoot, 4' by 20', circular, or traditional 20' by 40' in-ground vegetable garden.
Click Here for a Free Square-Foot Garden Plan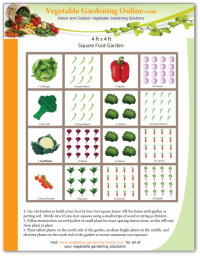 Click Here for a 10 X 10 with Corn Free Garden Plan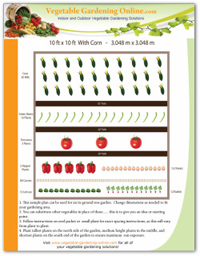 Click Here for a 10x10 Squash and Cucumbers Free Vegetable Garden Plan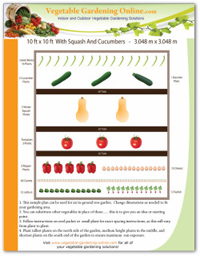 Click Here for a 20 X 20 Free Vegetable Garden Plan
Click Here for 4 X 20 Free Vegetable Garden Plan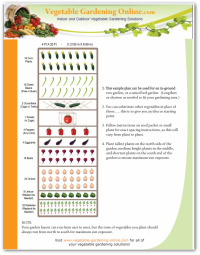 Click Here for 20 X 40 Free Vegetable Garden Plan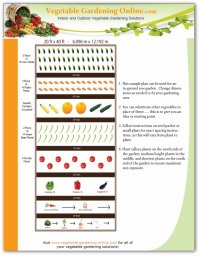 Click Here for a Circular Free Vegetable Garden Plan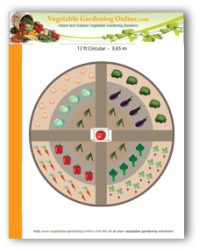 Additional Gardening Resources

1. Are you interested in a book all about growing tomatoes? Give this book a try! Click Here!
2. Would you like to learn all about Organic Food Gardening? Here is a great resource! Click Here!
3. Get inspired to plan your next vegetable garden! Send for my favorite free seed catalog from Territorial Seed Company.
Download Free Vegetable Planting Guide, Garden Diary, Zone Chart, and Garden Planning Worksheets

Click here to download our free Planting Guide Worksheet, Gardening Diary, Zone Chart, and Vegetable Planting Guide Worksheets to further assist you in planning and planting your home vegetable garden layout! Our goal is to provide you with all the tools and information you need to successfully begin your vegetable gardening adventure.
Planning a Vegetable Garden

Planning a vegetable garden is the first step towards success. Choose a garden plan that will fit your space. Remember that you can substitute any of these vegetables for your own garden favorites...these are just suggestions.
Taller plants should be planted on the north side of your garden, medium height plants in the center, and the shortest plants should be on the south side of your garden plot.
This layout will optimize sunlight by preventing taller plants from shading shorter plants.
Involve your family in your gardening adventures. It's a great way to learn together, and spend quality time as a family. It's also healthy and inexpensive!
Vegetable Garden Layout

These garden layouts are to help you when designing a home vegetable garden. Download our vegetable garden ideas and plans to help design the perfect garden for your needs.
These garden designs are provided to help assist you in planning your home vegetable garden design. Designing even a small raised bed, square foot, or in-ground row vegetable garden using our vegetable garden layout and planner worksheets can make a delicious contribution to your family meals! Planning a basic or beginner vegetable garden can make a huge contribution to your family's well-being. If you have limited gardening space, some of these plans are ideal for a small vegetable garden. Whether you are growing a backyard or patio vegetable garden, using these free garden plans, tips and ideas can help you get organized.
Click on These Links to Download a PDF Viewer


Vegetable Garden Designs

Home vegetable garden plan and design worksheets, small vegetable garden plans, tips and ideas that will will help you plan your garden!
These free garden plans are a starting point for planning your home garden. The sizes and shapes can be changed to suit your needs, as well as the vegetable plants. Feel free to substitute your favorite vegetables, and eliminate one that your family may not enjoy eating. Just remember to rearrange the garden layout so that you always plant the smaller vegetables on the south end of your garden, and the medium-height vegetables in the center, and the tallest vegetables on the north end of your garden.
Free Vegetable Garden Plans to Vegetable Gardening
You Might Also like to Read: