Growing Butternut Squash


In Your Vegetable Garden

Easy tips for growing butternut squash in your vegetable garden.
Learn how to plant, care for, harvest and store butternut winter squash for many delicious uses all winter long!
Design Your Own Vegetable Garden Layout Using our Free "Vegetable Garden Planner" Software!
If one of your New Year's resolutions is to eat healthier then planting butternut squash is an excellent and delicious choice to add to your vegetable gardening list!
Many gardeners, at the beginning of the New Year, plant seeds in an indoor pot, each seed representing a particular wish or hope that you desire to bring into fruition.
Growing Winter Squash

Plants that survive winters are called hardy, while those that succumb to cold weather are called tender. Butternut squash, which is a winter variety, is tender and damaged by frost. The plants require full sun exposure and a well-drained bed. Plant outdoors in mid-to late spring. Seeds can be sown indoors in peat pots several weeks prior to planting in the vegetable garden.
Download Free Garden Planning Worksheets, Garden Diary, Zone Chart, Or Planting Guide
Sow seeds about an inch deep, several inches apart, in rows or in groups of six seeds. Space groups about 6 to 8 feet apart each way. In rows, thin the seedlings to 18 inches apart.
Growing Butternut Squash

Planting butternut squash is best in sandy soil enriched with organic matter.
Fertilize every few weeks in sandy soil, every month in clay or loamy soils to encourage growth.
Mulch to keep fruit clean and preserve moisture.
Butternut squash are greedy feeders and benefit from mulches or drinks of manure tea.
Winter Squash Pests

Check often for pickleworms. Butternut squash are fairly resistant to vine borers. Remove pests by spraying or hand-picking. Many plants go on producing even if borers attack and most of the fruits can be salvaged.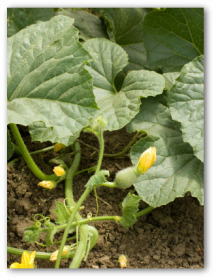 How to Grow Squash

Squash are known today as very thirsty feeders in the garden, but old-timers gardeners never watered the plants! They grew the vegetables directly on the compost pile; where growing butternut squash drew all the nutrients and moisture it needed.
Growing butternut squash is among the most sought-after and fruitful of all winter varieties. The vegetables are unexcelled for providing nutritious fresh food for canning, freezing, winter storage, pickling, and preserving.
Harvesting Butternut Squash

Harvest when fruit is fully ripe. Many develop into a deep green or orange color; butternut squash should be fully beige or light tan, rather than displaying greenish tints. Leave a short piece of stem attached to the fruit when harvesting. Wipe away soil but do not wash produce before storing. All winter squash fruits, ready or not, should be harvested before heavy frosts.
Storing Butternut and Other Winter Squash Varieties

Winter squash's name reflects its excellent storage qualities. Only fully developed and ripened produce should be set aside for storage. Handle carefully to avoid bruising the skins. The fruits need a warm, dry area, such as a kitchen, bedroom, or attic, to ensure successful storage. For storing, place the vegetables in crates, lie out singly on shelves, or hang from the ceiling in nets. With these guidelines, squash generally remains in good condition until January or February.
Squash Trivia

"Tomatoes and squash never fail to reach maturity. You can spray them with acid, beat them with sticks, and burn them; they love it". ~ S.J. Perelman (1904-1979)
Trivia--Beginnings and Endings

A Native American traditional ritual of closure for the ending of a year can easily be adapted today. Go to your garden, dig a small hole in the ground, and place your fears, regrets, or worries written on slips of paper into the hole. Cover the spot with soil, leaves, or stones so that you can leave your burdens behind for the coming year!
Growing Butternut Squash to Vegetable Gardening
You Might Also like to Read:
Growing Butternut Squash to Growing Squash