Dear Fellow Gardeners,


Growing Your Own Bush Beans
Growing your own bush beans can be one of the highlights of summer! Making successive plantings every two weeks ensures good eats until frost arrives.
Many avid gardeners will tell you that their best bean crop is the bush or snap bean.
In comparison plantings of several types of pole beans to bush kinds, the bush beans win the contest hands down.
Among the benefits of planting bush beans include:
* They produce their entire yield over a very short period of time, so the dead stalks can be removed after harvest and a new crop planted.
* Since the crops grow and are harvested quickly, bush beans rarely have difficulties with pests or diseases.
How to Plant Bush Green Beans
Seed directly into the garden after last frost and soil and air have warmed.
Plant seed to a depth of 1 to 2 inches.
Leave a space between plants of 2".
Spacing between rows should be 18 to 24 inches.
The problem of planting too early that the seed may rot in the ground waiting for the soil to warm up has been all but eliminated by reliable seedsmen who coat their seeds with fungicide to prevent rotting.
You can plant your earliest bush beans in the spring when the soil temperature has reached 55 degrees.
An exception is the bush lima bean which like a warmer soil and should be planted 2-3 weeks later than the earlier bean planting.
Vegetable Gardening Tip
Do not walk through rows of bush beans when they are wet, and keep pets out of the garden as well, as this can spread disease.
Recommended Varieties
Blue Lake is ready for harvest in 52 days. This is the green bean variety that sells for top dollar in the supermarkets. You are assured a high yielding crop of dark green, 6 to 7 inch long, tender and tasty beans for table use, canning, or freezing.
Topcrop is harvestable in 53 days. Known for earliness, vigorous growth, and high yield. The tender, green, round pods are 5-6 inches long and stringless. With an excellent taste, they are wonderful fresh, frozen, or canned.
Fordhook Bush Lima can be harvested in 75 days. This is an All America Selections Winner. Whenever possible, we encourage you to buy varieties noted as All American Winners. This nonprofit organization was founded by seedsmen in 1932 to promote the development of new species. The pods are 3 to 4 inches long and keep their fresh buttery flavor even when canned or frozen.
Burgess Earli-Serve is an outstanding type noted for concentrated pod set high in the plant. Expect excellent yields of 4 ½ long pods. This upright bush bean plant grows to 15" high. Once you try the delicious white beans you will want to plant them every year.
Purple Queen is beautifully purple colored as the name suggests and can be picked in 52 days. The bean turns forest green when cooked. Bush beans have a habit of growing compact and upright. The stringless beans grow in pods measuring 5 ½ inches. This great tasting bean is ideal for canning or freezing.
Topnotch Golden Wax is the best flat podded wax bean. Pods are a little over 5 inches long, stringless, tender, and flavorful. The yellow bush beans are very productive and freezes well.
Canning Green Beans
Grow some extra green beans for canning! You will enjoy eating your delicious home-canned green beans all winter long.
Bush beans were developed for commercial growers, as the beans all tend to ripen at the same time.
This makes canning a one or two day event, instead of being spread over several weeks.
Visit my website for complete green bean canning instructions.
Best of Vegetable Gardening E-Book
Don't forget to download my new e-Book with lots of tips and basic vegetable gardening information!
This handy e-Book also contains all the worksheets, sample garden plans, garden diary, and vegetable planting guide for your convenience.
It's priced right at only $9.95!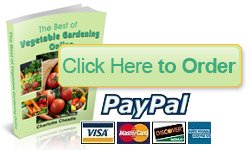 Until next week....
Have a Great Garden!