It's Time for Winter Planning!
Click Here to go to the Free Vegetable Garden Plans Page
We have lots of new free and fun things on the website since your last visit! We have added various "Vegetable Garden Plans" for download, Videos for planning several types of gardens, and a new "Question and Answers" page for our readers. Get a head start on the next garden season! Visit our "Free & Fun Stuff" today to start planning your plot! (Or plotting your plan.)
Have You Put Your Garden "To Bed" for the Winter?
Now is a good time to clear what's left of your summer garden into your compost heap or recycling bin. (Unless you are reading this from "Down Under". You might be planting your gardens there right now?) Leaving old vegetation in your garden over winter is not a good idea, as plant diseases can be spread this way.
Now is a great time to add a layer of straw, manure, compost, or leaf mold to your garden surface. These organic materials will break down over winter, and can be worked into the soil before spring planting.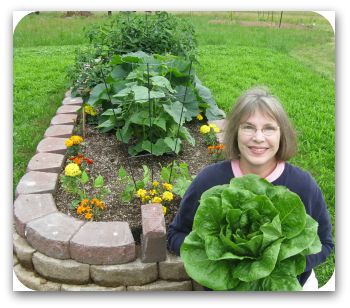 Raised Bed Garden Video
We have put together a "how to" video of designing and planting a raised bed garden. If you are thinking of building a raised bed garden next season, this is a great video to watch.
Container Gardening Video
Are you thinking about growing a container garden next year? Now is a good time to watch our video, and get some ideas of types of containers that will work great in your garden!
What Happened to our Potato Container Garden?
This is a short, and very sad video about our Garbage Can Container Potato Garden Experiment this past summer. Have a look, and shed a few tears with us. If you have any suggestions or ideas on this subject, PLEASE visit our "Share Your Story" page, and hopefully send a photograph along with your story. We definitely need some help with this!
Have a Question?

Do you have a question about your garden? Something that didn't quite work out like you hoped it would? Or a question about something you are planning for your next garden? Visit our new Questions & Answers forum, and ask away!