Easy Strawberry Jam
Recipe and More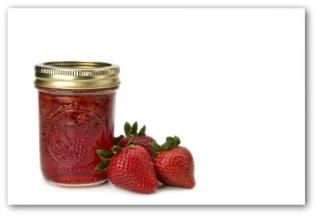 Easy strawberry jam recipe for making your own preserves at home.
Turn fresh strawberries from your garden or the fruit stand into homemade preserves to enjoy all winter long.
Design Your Own Vegetable Garden Layout Using our Free "Vegetable Garden Planner" Software!
Gifting jars of homemade preserves is a time honored tradition passed down through the generations.
With every tasty spoonful, the lucky recipients will give a nod of appreciation to you for sharing your jam recipe.
Jams are made by cooking chopped or crushed fruits with sugar.
You can use one type of fruit or a combination of fruits to make jam.
Download Free Garden Planning Worksheets, Garden Diary, Zone Chart, Or Planting Guide
How to Make Strawberry Jam Preparation:

Use only top quality fruit for achieving the best results making jams. 
Wash fruit thoroughly under cold running water.
 Dry fruit. Remove stems, and scarred or bruised areas.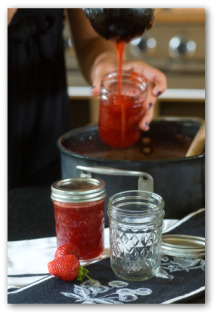 Pectin

Pectin is a natural substance found in varying amounts in fruits.
It is the pectin that causes fruit to gel.
Fruit that is slightly under-ripe contains more pectin than fully matured fruit.
Recipes made without added pectin such as our first  recipe below, rely on the natural pectin in the fruit to set the gel.
These recipes use less sugar than recipes with added pectin. However, they require a longer cooking time to reach the gelling point.
Liquid or powdered pectin that is sold commercially is required for some jams.
Sugar

Sugar helps gel to form, adds to flavor, and serves as a preservative.
Light corn syrup can be used to replace part of the sugar in the included strawberry jam recipe.
In recipes without added pectin, one-fourth of the sugar can be replaced with corn syrup.
When commercial pectin is added, corn syrup can replace one-half of the sugar if desired.
Strawberry Jam Recipe #1

Sliced and sweetened strawberries that have been turned into jam, make Sunday morning pancakes or waffles even more of a family celebration!
The following recipe has no added pectin and yield about 4 pints.
Ingredients:

2 quarts strawberries
6 cups of sugar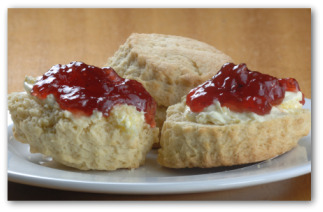 Directions:

Wash, drain, and remove stems from strawberries.
Crush berries one layer at a time. 
Combine fruit and sugar in large pot. 
Gradually bring to a boil, stirring until sugar is dissolved.

Cook rapidly to gelling point. 
Stir often to prevent sticking, as mixture thickens.
Spoon hot strawberry jam into hot jars, leaving ¼ inch headroom.

Place two-piece lids on jars. Process for 15 minutes in boiling water bath canner.
Gelling Test:

When preparing a strawberry jam recipe that does not require the addition of a commercial pectin product, you will need to test for doneness.
Remove the jam from the heat while you are testing the gel, so it does not continue to cook.
Jams can be tested using a plate test or a thermometer.
Put a small amount of the jam on a pre-chilled plate.
Place plate in freezer until jam is cooled.
The jam is ready to can if the mixture is set.
If a jelly thermometer is used for testing the gelling point, determine the gelling point for your elevation.
Use the thermometer to establish the boiling point of water and add 8 degrees for the gelling point.
Strawberry Jam Recipe #2

Making Strawberry Jam Using Pectin
This jam recipe is made with added pectin and yields about 8 half-pints.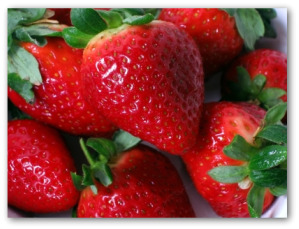 Ingredients:

2 quarts fresh strawberries
1 pack powdered pectin
7 cups sugar
¼ cup lemon juice
Directions:

Wash, drain, and remove stems from strawberries.
Combine fruit, lemon juice, and pectin in a large pot.
 Stirring occasionally, bring mixture to a boil. 
Add sugar, stir until dissolves. 
Allow mixture to return a rolling boil. 
Stir constantly, allowing jam to boil hard for a minute. 
If needed, skim the foam. 
Place lids on jars. Process for 10 minutes in a boiling water bath canner.
Strawberry Jam Recipe to Vegetable Gardening
Strawberry Jam Recipe to Growing Strawberries