A Small Vegetable Garden Plan for Success!
Design a small vegetable garden plan for a square foot, container or raised bed garden.
The first step in creating a small garden plan is finding a spot in the yard that gets a lot of sunshine!
When you have selected a patch of lawn, or a sunny location on your porch, patio, or balcony, you are ready to begin your small garden plan and design!
Keep it simple...choose from a square foot, container, or raised bed vegetable garden.
Download Free Garden Planning Worksheets, Garden Diary, Zone Chart, Or Planting Guide Vegetable Garden Ideas
Even a Small Vegetable Garden Can Offer Delicious Rewards!
Square Foot Garden

One simple small vegetable garden plan is called a "square foot" garden. This gardening technique was developed by Mel Bartholomew.
It is a four foot by four foot square, with a form built of 2 x 6 lumber. 
Divide the square into 16 one-foot sections using string or small strips of wood as markers.
Fill your garden with high-quality potting or garden soil with added vermiculite, peat moss, and compost.
Choose your favorite vegetables, and away you go!
Click Here to Download Sample "Square Foot" Garden Design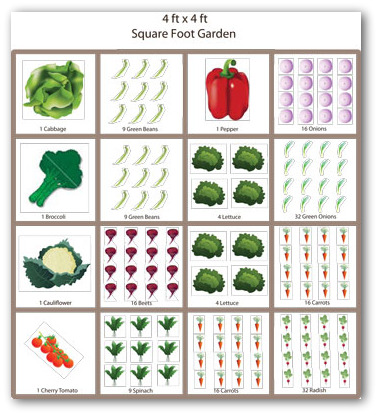 Some advantages of a square foot garden:

Organizes and simplifies your vegetable garden design
Easy to build and maintain (no digging!)
Hold a special enriched soil mix above ground
No drainage problems!
Hint:Create a vertical support on the north side of your square foot garden to grow tall and climbing plants.
This support can be made of metal fence posts driven into the ground with a section of metal fencing firmly attached.
Container Garden

Another easy type of small vegetable garden plan is a container garden.
Advantages of a Container Garden:

Container gardens can be any size and configuration, so they will fit in even the smallest spaces.
Purchase or recycle medium to large containers (3-5 gallon size is ideal).
Be sure containers have drainage holes.
Fill with high-quality potting soil, plant, and voila!
Container Gardening Tips

Be sure to select a sunny location for your container garden!
Container Gardens can dry out very quickly during hot weather.
 Be sure to water adequately!Adding organic liquid fish fertilizer every 2-3 weeks during the growing season can give your container garden a great boost.
Raised Bed Garden

Creating or building a raised bed garden can be a good weekend project.
It takes some time, effort, and materials to get the bed built, but after that your garden is always ready and waiting for your next gardening adventure!
A raised bed is a great small vegetable garden for beginners!
Ideal Size

Raised garden beds should be 3 to 4 feet wide so that you can reach the center of the bed from either side.
Any length that fits your location is fine.
Border Materials to Use

Build a border for your garden bed using:
concrete or concrete blocks
You don't have to build a border; you can simply mound materials on top of the ground.
However, the border makes a good place to sit while gardening, and it holds your garden soil in place!)
Planting Your Garden

Choose your favorite vegetables to plant in your garden.
For details of planting times, growing season, length of time to harvest, etc. see our "planting guide".
Vegetable plants will yield a crop in 1-4 months, depending on the type of vegetable.
Small Vegetable Garden Plan Care and Harvest

What next? Just make sure to water your garden, and weed it as needed.
Harvest vegetables as soon as they are ripe.
If you have the time, it may also be a good idea to install a fence around the garden so that animals and local pets don't ruin all your hard work.
You Don't Need a Green Thumb!

Keep it simple, and you won't need a green thumb! You also won't need a lot of time or supplies.
Use a simple garden plan to help you get started.
All you need is a little bit of planning and the desire to grow fresh vegetables for your family.
And with the price of fresh food these days, it makes sense to grow some of them on your own.
Not to mention that fact that this is a project the whole family can take part in!

You Might Also like to Read: