Raspberry Pie Recipe,
Deep Dish, No Fuss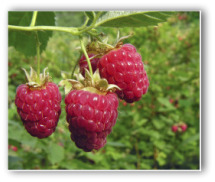 The best homemade raspberry pie recipe and variations with easy to follow steps.
Learn how to bake delicious homemade raspberry pie with fresh or frozen berries from your garden.
With the added convenience of using prepared packaged pie crust in our recipes, there is no trick for even a beginner to baking a delicious dessert!
Simply follow the directions for serving your guests and family this hearty sweet dish.
We are sure there will be takers in line for seconds.
In fact, the word "recipe" is from a 14th century French word meaning "take"!
Design Your Own Vegetable Garden Layout Using our Free "Vegetable Garden Planner" Software!
Easy Deep Dish Raspberry Pie

Ingredients:

Flaky Pie Crust Recipe (given below, or use packaged or frozen pie crust)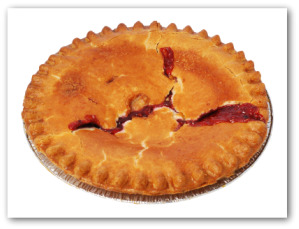 4 cups fresh raspberries
3 tablespoons all-purpose flour
½ cup sugar
¼ teaspoon nutmeg
½ teaspoon lemon juice
1 teaspoon butter
¼ teaspoon salt
¼ teaspoon cinnamon
Directions:

Arrange raspberries in a 1 quart casserole dish.
Blend remaining ingredients (except piecrust!), and sprinkle over the top of the raspberries. 
Roll out a sheet of pastry or place a prepared piecrust over the top of the fruit. 
Fold under ½ inch of the pastry, and crimp the edges with floured tines of a fork.

Make several cuts in the top center. 
Bake at 425 degrees for 40 minutes. 
Serve with whipped cream topping or ice cream. 
 Download Free Garden Planning Worksheets, Garden Diary, Zone Chart, Or Planting Guide
No Fuss Raspberry Pie Recipe

Ingredients:

Flaky Pie Crust Recipe (Given Below)
1 ½ pints fresh or frozen raspberries
1 ½ tablespoons flour
1 ½ cup sugar
2 tablespoons butter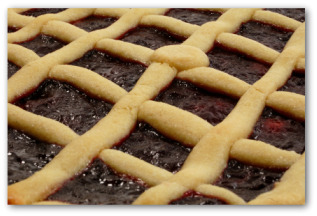 Instructions:

Mix raspberries, flour, and sugar. 
Turn into an unbaked, pastry lined pie plate. 
Criss-cross pastry strips to form a lattice top design. 
Bake 25 to 30 minutes in a 375 degrees oven.
Glazed Fresh Raspberry Pie Recipe

If you have ever eaten at a Shoney's Big Boy restaurant, this is a variation of the signature strawberry pie they serve topped with whipped cream.
In this recipe, the crisp crust is filled with fresh raspberries held together by a fruit juice glaze.
The glaze preserves the freshness of the fruit for two days.
Ingredients:

Basic Flaky Pie Crust for 9 inch pie (Pie crust recipe given below will make two 9" pies)
½ large egg white, lightly beaten
¼ cup sugar
3 tablespoons cornstarch
1 cup cranberry/raspberry concentrate, thawed, undiluted
¾ cup water
4 cups raspberries, rinsed, dried.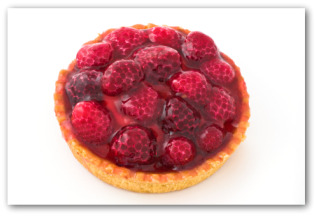 Remove the dough or prepared piecrust from the refrigerator. 
If needed, allow the dough to sit for 10 minutes until it is soft enough to roll. 
Using a pastry cloth rubbed with flour, roll the dough large enough to cut a 13 inch circle. 
Place the dough or piecrust in the pie pan. 
After folding the excess under, use your fingers to crimp the edges. 
Cover and refrigerate for at least 1 hour but not to exceed 24 hours.

Baking Crust

Preheat the oven to 425 degrees 20 minutes before baking. 
Bake pastry shell for 20 minutes.

With a fork, prick the bottom and sides. 
Bake 5 minutes more until the crust is pale golden. 
Check after 3 minutes and prick any bubbles that may have formed. 
Cool the crust on a rack for several minutes. 
Then, brush the bottom and sides with the egg white.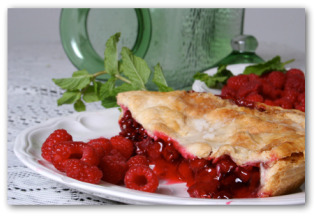 Preparing Glaze

Mix together the cornstarch and sugar in a 2 quart saucepan. 
Slowly, mix in the cranberry/raspberry concentrate and water until smooth. 
Remove the pan from the heat and cool completely.

Finish

Gently fold in the raspberries. 
Pour the filling in the baked pie shell. 
Store refrigerated for up to 2 days.

For a variation of the raspberry pie recipe listed above:
Raspberry Glazed Currant Pie Recipe

Use ¾ cup of currants, ½ cup of sugar for the glaze, and 3 cups of fresh raspberries. 
Fresh blueberries make a delightful topping to this delicious dessert!
Flaky Pie Crust Recipe

1 1/2 cups flour or pastry flour
1/2 teaspoon salt
1/2 teaspoon baking powder
1/4 cup shortening
2-3 Tablespoons ice water
Process:

Mix and sift flour, salt and baking powder. 
Rub in shortening, (reserving 1 1/2 tablespoons), with tips of finger, or with pastry cutter. 
Add just enough ice water to form a soft dough, mixing it in with a knife. 
Turn on a floured board, and roll out in a thin sheet, then spread lightly with remaining shortening. 
Roll like a jelly roll, and cut in two pieces, having one piece a trifle larger than then other. 
Chill dough for at least one hour. 
Then stand rolls on end, press down with the hand and roll in a circular piece with rolling pin. 
The larger piece if for the top crust. 
This recipe makes the exact quantity of pastry for one medium-sized pie with two crusts. 
If desired, omit the baking powder.
Raspberry Pie Recipe to Vegetable Gardening
Raspberry Pie Recipe to Growing Raspberries