Planting a Vegetable Garden From Seeds or Transplants


in Your Backyard, in Containers, or Raised Beds

The best free plans and tips for planting a vegetable garden, growing vegetables, and designing a home vegetable garden are here!
Learn 8 easy steps for planting a great vegetable garden at home. Let's get started!
Design Your Own Vegetable Garden Layout Using our Free "Vegetable Garden Planner" Software!
1. Choose a sunny location for your vegetable garden.
2. Locate your garden near a source of water.
3. Decide what type of garden to plant:
Backyard Row Garden

Container Garden

Raised Bed Garden
Types of Vegetable Gardens Video
Download Free Garden Planning Worksheets, Garden Diary, Zone Chart, Or Planting Guide
Before You Plant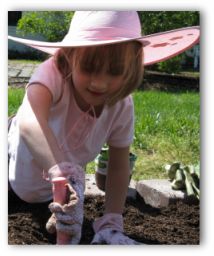 While most gardeners would suggest the harvest as the most enjoyable part of gardening, planting a vegetable garden is not far behind! A vegetable garden is a wonderful pastime even for the most impatient of folks.
After enjoying many happy moments planting seeds or transplants on a sunny day, you can return in a matter of days to find beds filled with tiny sprouts or plantings sporting brand new growth.
Seeds formed in the final stages of the previous season bring continuity to the vegetable garden.
Download Free Garden Planning Worksheets, Garden Diary, Zone Chart, Or Planting Guide
Each seed contains the beginnings of a plant awaiting a nurturing place to grow.
It is no small wonder that a gardener's heart fills up with enormous satisfaction when planting a garden and harvesting the plants. In fact, in the vegetable garden you will find many of the happiest people on earth!
Winter Garden Planning

All of your planning and dreaming of planting a vegetable garden are about to take place as you begin planting seeds or small plants into the well prepared beds.
The whole of those hours spent poring through seed catalogs and encouraging seeds to flourish indoors are nearer to the payoff of a successful crop.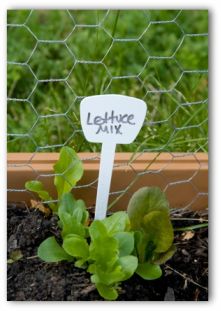 The entire efforts of planning and preparation for planting a vegetable garden leads to the crowning moment of planting your garden.
Young vegetable plants quickly grow to transplant size. Do not delay transplanting because once a transplant becomes root-bound, chemical messages inside the plant are sent that the vegetable should stop growing and it will be permanently stunted.
The welcome signs of foliage and root development signal the time for planting vegetables is near.
Make final garden bed preparations such as adding compost, fertilizer or any other soil amendments.
Ensure the plants have time to adjust to the outdoor weather conditions before transplanting them into the ground.
When to Plant

Most vegetable plants will not tolerate frosts or freezing weather. Use our zone chart and planting guide to determine planting times in your area or zone.
Hardening Young Plants Before Planting Outdoors

Young plants must be acclimated to the rigors of the weather outdoors.
Rising and falling garden temperatures shock tender plants and may kill them or stunt their growth.

To harden plants grown indoors prior to planting outdoors, place them outside, out of direct sunlight for a few days returning them indoors in the evening.
 Gradually move the plants to full sunshine locations over a period of 3-5 days. A day or so later, the vegetables will be ready transplant.
A day or so later, the vegetables will be ready transplant.
How to Plant a Vegetable Garden

Whether grown from seed at home or purchased as transplants at a local nursery, seedlings soon reach the stage of development making them ready to transplant into the garden bed. Follow the easy step by step instructions shown below for planting vegetables into the garden.
• 1. Space the plants as directed in planting charts for each specific plant.
• 2. Gently remove the plant by turning it upside down and tapping its container until it falls into your hand.
• 3. Carefully break up the roots if they are compacted.
• 4. Position the vegetable plant in the dug hole then back-fill from the edges.
• 5. Firm the soil around the plant until it is well compacted.
• 6. Water the plant whenever the soil is becoming dry.
• 7. Do not over-water or soak the seedlings, especially if the ground temperature is still cool which can promote disease and rot.
• 8. Always water around the base of the plant not onto the foliage until the plants becomes well established.
First Care after Transplanting Vegetable Plants
In the first several weeks after planting a vegetable garden, young transplants need to be as carefully nurtured in the garden as they were in the germination stage.
If harsh weather threatens cover the vegetable plants with cloth drop-cloths or covers.
Old bed sheets work fine for this purpose. Keep the seedlings covered overnight, or until freezing temperatures pass.
Reap the Reward of a Bountiful Harvest!

Planting a Vegetable Garden to Vegetable Gardening
You Might Also like to Read:
Vegetable Plants
Vegetable Garden Plan
Small Vegetable Garden Plan
Vegetable Gardening Software
Free Garden Plans
Home Vegetable Gardens
Free Vegetable Garden Plans
Planting Vegetables
Raised Vegetable Gardens