Tips for Planting a Vegetable Garden at Home
When planting a vegetable garden at home for the first time, there are several things to keep in mind. First, you will need to find a sunny location for your garden. Most vegetable garden plants require at least six hours of sunshine per day.
Download Free Garden Planning Worksheets, Garden Diary, Zone Chart, Or Planting Guide
Container Gardens
If you don't have space for a traditional in-ground vegetable garden, consider growing a container garden on your porch, deck, patio or balcony.
Vertical Gardens
Vertical vegetable gardening is also a great way to save space, as spreading plants are trained to grow upwards on a trellis or cage instead of sprawling on the ground.
Raised Bed Gardening
Even growing a small vegetable garden can provide an abundance of fresh delicious vegetables for your table.
You can design a raised bed vegetable garden that will be an attractive addition to your landscape and will make gardening efficient and easy.
Vegetable Garden Planting Times
Check with your local gardening center to find vegetable garden planting times for your specific area. Most vegetable plants will not survive frosty or freezing weather, and need to be planted outdoors after the weather has warmed in the late spring or early summer.
Download Free Garden Planning Worksheets, Garden Diary, Zone Chart, Or Planting Guide
A Few Tips on Planting a Vegetable Garden
Download our vegetable garden planting guide.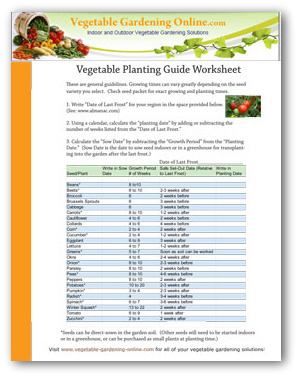 Vegetable seeds can be started indoors several weeks before it is time to plant outside in the garden.
While seedlings are growing, you can be busy tilling and preparing the garden site.
Some small vegetable plants can also be purchased locally at a garden center just in time to plant in your prepared garden site.
Additional seeds can also be sown while the garden is productive.
Keep containers full of ready to transplant seedlings, or plant seeds directly in your garden as soon as you have space available.
When one crop finishes, plant another to maintain production and a constant supply of vegetables.
Bare spots invite weeds; steady planting keeps the weed population to a minimum.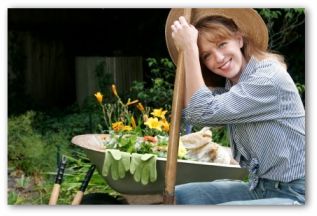 Squash seeds that have been dried and later planted may result in a hybrid harvest. Bees carrying pollen between your garden and the neighbor's vegetable patch may produce crosses of their own. This is just one of the pleasant surprises you have in store when planting a vegetable garden. The cross-squash produce may look different but it will be edible.
Keep Your Garden Healthy
You never want to put a sickly looking plant in the vegetable garden. Even if you think you can nurse it back to health, don't be tempted to place it with your healthy plants.
Transfer sick plants to a separate location until they are healthy. It may only be a case of stress or improper watering but do not take a chance exposing the other plants to pests or disease.
Garden Survey
In 2009, in a consumer reports national survey of over a thousand participants, thirty percent of those surveyed grow vegetable gardens. 21% of the gardeners also raise herbs. Sixteen percent have rock gardens. (That is where I have gone wrong--in not raising rocks!) In the poll of more than a 1000 gardeners, 52% use chemical sprays to rid their gardens of unwanted pests. A necessary part of planting a vegetable garden is making a plan of attack on harmful outdoor bugs preying on the produce. You want to eat the vegetables, not feed the neighborhood insects! Forty percent surveyed claimed to use organic remedies for pest control.
Organic Vegetable Gardens
You can grow an organic vegetable garden. Use organic seeds or plants, and fertilize or enrich your soil with organic fertilizer such as compost, or well-aged manure.
Water- the Essential Element
Nearly half of the gardeners taking part in the national poll said they used rainwater for watering their vegetable garden.
From the second a seed or transplant is planted in a vegetable garden, its survival depends on receiving adequate water from irrigation or rainfall.
Growing vegetables are "water hogs", especially in hot climates or during dry weather.
Watering is a gardener's most important chore after planting a vegetable garden.
Be sure to locate your garden near a convenient source of water.
Set up your watering system, and leave it in place.
Nothing is more frustrating than having to drag an un-cooperative hose around every time you need to water!
Increase Harvest with "Double Cropping"
Home gardeners can use double cropping when planting a vegetable garden to get the maximum production.
Vegetables are seeded in two or more tightly spaced rows 6-12 inches apart.
Carrots, mustards, turnips, lettuce, spinach, collards, and beets respond well to this method.
Plantings can be of a single variety or you can mix up different varieties, like having a tossed salad for dinner!
Benefits of Home Vegetable Gardens
Planting a vegetable garden can be a very rewarding experience. Not only will you save money, but you will have fresh healthy vegetables cared for by your own two hands! No matter your situation, you can design a vegetable garden that will work for any sunny location you have available. It is very satisfying to watch your seeds sprout and grow into little plants, and then bloom and produce vegetables for your table. Vegetable gardening is a healthy hobby that your whole family can enjoy.