Easy Tips on How to Plant a Vegetable Garden
Do you want to plant a vegetable garden this year? If you are a beginning gardener, it helps to understand a few basics about planting a simple vegetable garden. Then you can design a vegetable garden that will fit your space, budget, and lifestyle. If you don't have a backyard, and only have a few minutes a week to garden, then you would be wise to consider growing a container garden.
Design Your Own Vegetable Garden Layout Using our Free "Vegetable Garden Planner" Software!
If you have a backyard, and can devote several hours per week to your garden, then you will have more options to consider.
Three Essentials: Sunshine, Soil, Water

Vegetable gardens need 3 things to survive:
Lots of sunshine

Fertile soil

Adequate water

You will want to start by choosing a sunny location in your yard, or on your patio, balcony, porch or deck. Be sure there is a convenient source of water located near your garden location.
Add compost, well-aged manure, peat moss, leaf mold or other organic additives to enrich and condition your garden soil.
If you are planning a container garden, purchase the best-quality potting soil you can afford.

Where to Start?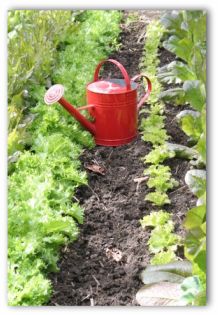 Download Free Garden Planning Worksheets, Garden Diary, Zone Chart, Or Planting Guide
Once you have made the decision to plant a vegetable garden, you must do a bit of planning. This will allow you to accomplish everything you must in a single afternoon, since most of the work it takes to grow vegetable takes place during the planting stage.
To begin with, it is best to start with a small garden so as not to overwhelm yourself.
Pick a few family favorites and buy some seed packets or small plants at your local home and garden store.
Make sure to consult your family about what you will plant. This will help get your children involved and will turn your garden into a family project.
Small Garden Options
Raised Bed Garden

Click Here for a Free Square-Foot Garden Plan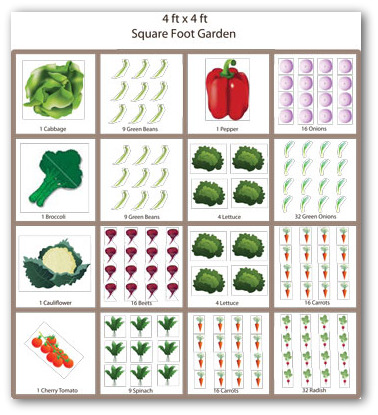 Square Foot Garden

Click Here for 4X20 Free Vegetable Garden Plan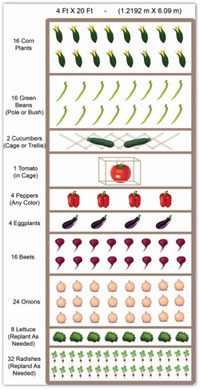 Container Garden

Container gardens work well in small areas such as a porch, deck, patio or balcony.

Find a sunny location.

Three to five-gallon containers are ideal.

Fill with potting soil.

Plant seeds or small plants.

Water frequently, as container gardens will dry quickly during hot weather.
When to Plant Your Vegetable Garden?

Download our vegetable garden planting guide.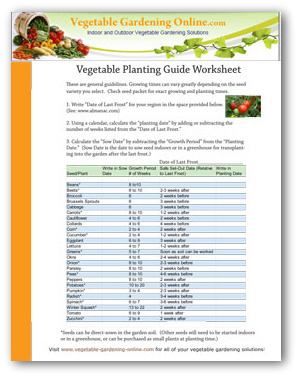 At this point, there are two important things that you should know.
The first is that all vegetable have certain seasons in which they grow best.

For example, lettuce, onions and carrots grow best during the summer months, while spinach, peas and broccoli do better in the fall or spring, depending on your climate zone.
So depending upon the time of year you choose to plant a vegetable garden, it is important that you only select veggies that grow well during theses seasons.
Preparing the Soil for Your Garden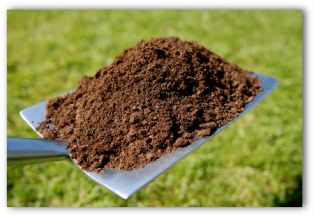 Use Compost to Enrich Your Garden Soil

The next important ingredient you must use when you plant a vegetable garden is compost. The compost adds nutrients and air to you soil and will make your plants grow faster and stronger. But don't overdue it. All you need is about an inch or two of compost mixed in with your soil.
Choose Vegetable Seeds or Small Plants

Last, let your children drop 2-3 vegetable seeds into each hole. The seed packets will provide you with specific instructions for growing times and watering requirements as well as planting depths. Or you can carefully transplant small vegetable plants into your garden. As a general rule, most plants take about 2-4 months to yield a crop.
Harvest Time!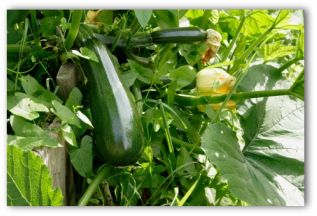 When the vegetables are ripe, let your children help pick them. They will instantly taste the difference between fresh vegetables and the older produce at the supermarket.
One simple solution to our fast-paced modern life is to plant a vegetable garden. Yes, we know. In this hurry-up, fast-food culture who has the time to plant and tend a garden? Well, the truth is that planting a garden is much easier than you think. In fact, many of your favorite vegetables can be planted just about anywhere and will yield a crop of delicious vegetables!
Plant a Vegetable Garden to Vegetable Gardening
Plant a Garden to Best Time to Plant a Vegetable Garden