Organic Fertilizer Recipe That You Can Make From Your Compost
How to make organic fertilizer in your own backyard. How to compost kitchen scraps and yard debris to create your own organic plant fertilizer.
Design Your Own Vegetable Garden Layout Using our Free "Vegetable Garden Planner" Software!
It is easy to create your own fertilizer by making wonderful, rich compost for your garden. By adding the right ingredients, you'll soon have a treasure trove of nutrient-rich soil that will make your plants happy… and you won't need to add a single chemical.
Choosing a Compost Location

Choose a spot that is somewhat shady, out of the general view, and still handy for adding materials and removing soil to put in your garden.
Make sure the soil in this location drains well.
Download Free Garden Planning Worksheets, Garden Diary, Zone Chart, Or Planting Guide
Make yourself a bin out of wire or wood if you wish. Alternatively, you may want to buy one.
There are many on the market that are attractive, and will work very well for a small compost pile.
How to Make Compost
Compost Materials

You are now ready to begin your compost recipe.
The first layer should be of "brown" materials. This may include old leaves, sawdust, straw, newspaper or hay.
Next, add "green" materials like lawn clippings, manure, weeds or table scraps (do not include any kind of meat or fish scraps!).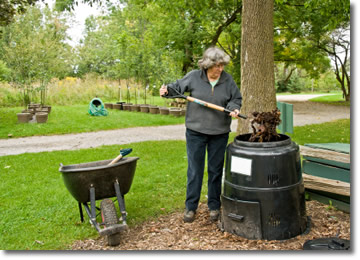 Repeat these layers over and over, building your compost pile. 
Be sure to water each layer a little as you go. 
This process can take some time if you are building your pile as you acquire materials.
Once your compost pile reaches a height of 4 to 5 feet, it will be large enough to start heating up and making soil.
If you are purchasing a "ready made" compost bin, follow the instructions that come with your bin.
How to Start the Compost Process
Once the pile has reached the right size, mix the layers together well. Two days later, do it again.
If you want to jump-start your fertilizer recipe, you can buy microbes at the garden nursery that will get things going a little faster.
Cover the pile during weather extremes.
This will prevent the compost from getting waterlogged or dried out completely.
Remember to water it occasionally. Keep turning the pile every few weeks.
When you add new layers, remember that the smaller the pieces, the easier it will be for them to decompose.
Don't add weed-seeds, meats, oils or bones to your compost. 
Dairy products are also not a good addition. These ingredients will attract flies and animals among other problems.
Quick Organic Fertilizer Recipes to Try
If you want to get a head start on your composting, try one of these easy organic fertilizer recipes.
You'll see for yourself how quickly they begin working. Use materials you have on hand.
One recipe to try uses four parts of fruit and vegetable scraps (peelings, leftovers and overripe specimens).
To this, add two parts of steer or chicken manure. Finally, add one part of shredded newspaper (no color ink) and one part of dry leaves that have been shredded.
Alternatively, you can mix two parts of scraps from your kitchen, one part shredded leaves and one part chicken manure.
Yet another recipe calls for two parts lawn clippings added to the leaves and manure from the previous recipe.
Follow one of these organic fertilizer recipes and see for yourself what happens.
Be sure and sign up for our newsletter for more tips on getting the most from your garden!

Organic Fertilizer to Vegetable Gardening
Organic Fertilizer to Organic Vegetable Garden