How to Plant a Garden to Grow Your Own Vegetables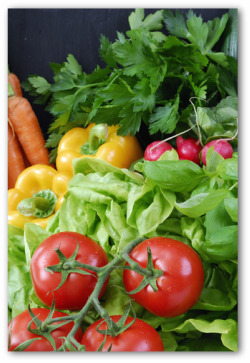 Learn how to plant a garden in easy steps.
Basic plans and tips for planting and growing home vegetable gardens in the backyard or in a raised bed or container garden.
Design Your Own Vegetable Garden Layout Using our Free "Vegetable Garden Planner" Software!
You can learn how to cultivate a garden at home, no matter what kind of space you have available for gardening.
If you have a backyard, you can grow a traditional in-ground vegetable garden, or a raised vegetable garden.
If you don't have a backyard or plot of ground available, you can learn how to grow a container or vertical garden on your patio, deck, porch, or balcony.
All that is needed is to find a sunny location, as most vegetable gardens require 6 or more hours of sunshine per day.
Vegetable gardening is a great way to save money, while providing your family with fresh delicious produce!
Download Free Garden Planning Worksheets, Garden Diary, Zone Chart, Or Planting Guide
How to Plant a Garden:
Basic Types of Vegetable Gardens
Below is easy steps on how to plant a vegetable garden of the most common types. (For more detailed information on each type of garden, click on the link for that type garden.)
Backyard or In-ground Garden: Use a spade, rototiller, or garden tractor to prepare soil for planting. Choose an area with well-drained soil, and plenty of sunshine. Amend soil with compost and fertilizer as needed. Plant garden seeds and/or plants in rows running north to south, with shorter-growing plants on the south end of the rows.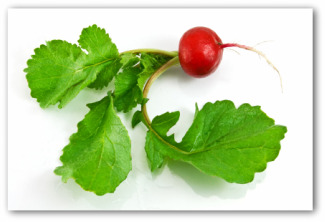 Raised Bed Garden: Locate bed running north to south. Create border with wood, brick, or building stones. Fill with garden soil. Plant garden seeds or plants with taller plants on the north end of the bed, and shortest plants on the south end.
Vertical Garden: Can be in-ground or in containers. Train large spreading plants (cucumbers, green beans, squash, tomatoes) to grow upwards.
Container Garden: Can be on the ground, patio, porch, deck, balcony. May include hanging containers. Fill with good quality potting soil. Plant seeds or small plants.
Square Foot Garden: Can be on the ground, in a flower border, or patio. Build frame 4' by 4'. Plant different vegetables in each of the 16 squares.
Click Here to Download Sample "Square Foot" Garden Design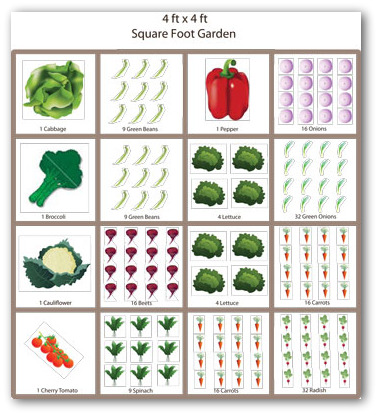 Tools You Need for Planting Vegetable Gardens

You will need gardening gloves, and a small trowel and rake when planting most types of vegetable gardens.
In-ground gardens also require a larger rake, hoe, and garden spade.
How to Plant a Garden: When to Plant Your Garden

Download our vegetable garden planting guide.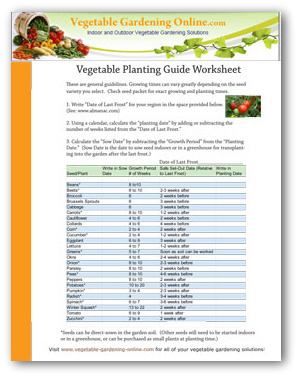 Check with your local gardening center to determine the vegetable gardening planting times in your area.
Most garden vegetables will not tolerate frost or freezing temperatures.
They will need to be planted after the soil has warmed in the spring, and after all danger of frost is past.
How to Plant a Garden: Which Vegetables to Grow?

Start with a few of your favorite vegetables. Lettuce, onions, cucumber, radish, tomatoes, potatoes, green beans, beets, peppers, and eggplants are all very easy to grow.
If you have lots of space for an in-ground garden, corn is also easy to grow.
Choose four or five vegetables as you learn how to grow a garden for the first time. It is good to start small, and build on your success for the next year.
Planting a Vegetable Garden from Seeds or Transplants

Follow the planting instructions on the back of the individual seed packets that you purchase for information on how to grow that particular vegetable in a garden.
After your vegetable seeds have sprouted, you will need to go back and thin the seedlings to the recommended spacing.
This is hard to do, as it seems cruel and wasteful to pull up some of your seedlings! But this is a necessary step if you want to have happy healthy plants when learning how to plant a garden!
If you also purchase small growing plants for your garden, be sure to handle them carefully when transplanting. If you disturb their roots, they may die.
Some garden plants are available in bio-degradable containers which can be set directly in the soil.
This is a good way to go for small plants like cucumbers and squash which are especially difficult to transplant.
Watering a Vegetable Garden

Provide approximately 1" of water per week for your garden plants.
Soil should be kept damp, but not wet.
Be sure your garden or containers have good drainage, so that your plants will not be standing in water.

Locate your garden near a water faucet if possible.
 You will want a "shower" attachment on the end of the hose or watering can, so that the water comes out in small gentle streams of water if you will be watering by hand.

Check your garden frequently during hot dry weather.

You may need to water both morning and evening during hot weather, increasing amount of water to 1 1/2 inches per week.

If you water in the evening, be sure to water early enough that the plant foliage can dry completely before nightfall. This will help prevent mildew and other plant diseases from occurring.
It is easy to learn how to plant a garden at home! Start small, and keep it simple the first time. This will help insure success, and will likely get you "hooked" on vegetable gardening! Gardening teaches valuable lessons like patience and perseverance. What a great way to learn a new skill, save money, and eat better food at the same time! Vegetable gardening is a great hobby for the whole family to enjoy.
Back To Top
How to Plant a Garden to Vegetable Gardening
How to Plant a Garden to How to Garden