How to Grow Vegetables
for Beginners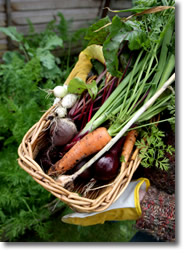 Learn how to grow vegetables in easy steps.
Easy tips and plans for planting and growing a vegetable garden for beginning gardeners.
Learn how to plant vegetables in your own backyard, or on your porch or patio.
Growing a small home garden is a great way to save money and ensure the freshest healthy vegetables are on your table.
Designing a vegetable garden is a fun activity for the whole family, and a good way to get your children interested in eating healthy food!
Design Your Own Vegetable Garden Layout Using our Free "Vegetable Garden Planner" Software!
You can easily learn how to grow vegetables for your family by following a few simple steps.
Download Free Garden Planning Worksheets, Garden Diary, Zone Chart, Or Planting Guide
How to Start a Garden
Easy Tips for Starting a Garden

It is very easy to learn how to plant vegetables, but before starting a garden, you need to find a sunny location in order for your garden vegetables to flourish.
You can grow vegetables in in the ground in your backyard or in your flower beds.

You can make use of small spots by creating a raised bed garden, or a container garden where you can put the plants closer together. 
Consider growing vegetables in containers on your porch, deck, or patio, or on a sunny windowsill or counter top. These types of gardens are very easy to plant and care for.

Make sure the spot you choose has good sunlight throughout the day, and is conveniently located near a source of water!
Vegetable Garden Planting Times

Download our vegetable garden planting guide.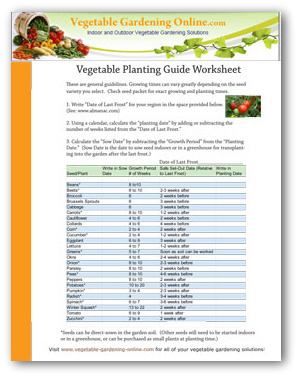 When to plant your garden will be determined by where you live.
Most garden vegetables will not tolerate frost or freezing weather.
So use our zone chart and planting guide downloads to determine the planting dates in your area!
Preparing Vegetable Garden Soil
If you decide to use raised beds or a container garden, you should have no problem in preparing the right soil.
If you want to know the secret on how to grow vegetables without worry, well-drained loamy soil is the key to your success.
Most potting soil available for purchase is well balanced and ideal for raised beds or container gardens.
How to Grow Vegetables

When planting your garden in the ground, be sure to choose a sunny location with well-drained soil, and away from trees or other plants whose roots will compete with your garden for water and other nutrients.
When growing vegetables, you will want to add plenty of compost, and some well rotted manure to the soil to provide the nutrients your plants need in order to flourish.
These additions should be well-mixed into the soil.
 A layer of mulch should be spread on top of your garden to help retain moisture, and to help prevent weeds from sprouting.

Some extra effort in preparation will pay huge dividends later, as your growing vegetable plants will be happy and caring for them will be easier!
What to Plant in Your Garden
This is where the fun begins because you can now decide what vegetables you want to plant in your garden.
It is best to choose vegetables that your family loves to eat, as there is no point in growing vegetables that you will have little use for. Lettuce, radishes, onions, parsley, carrots, tomatoes, peppers, and perhaps a potato plant or two, are general favorites.

Fresh herbs are also a welcome addition to both in-ground and container gardens, as they make flavorful additions to salads, soups and other dishes you prepare for your family.

Peas, green beans and corn are great to grow, but require quite a bit of space.
How to Plant a Garden

Follow the planting and watering directions on the seed packets you purchase for best results.

Some garden plants can also be purchased as small plants instead of seeds, at your local garden center. This can be a good way to save growing time, and get a head start on your garden.
Plant Multiple Crops of Fast Growers

Lettuce, radishes, and green onions grow very quickly, so you will have time to plant and harvest multiple crops of these vegetables whether in ground or in containers.
Consider planting smaller amount of these vegetables every 3 weeks to stretch out the harvest time.
Most other vegetables require the whole growing season to mature, so you will only plant these once at the beginning of the growing season.
You can learn how to grow vegetables very easily, and it can be a lot of fun.
It is very satisfying to watch your plants grow, and quite a thrill the first time you eat something you have grown in your own garden.
It is best to start small as you learn how to grow vegetables, and add more plants and variety as you progress each year.
For best results, get the whole family involved in choosing plants or seeds, planting and caring for your vegetable garden!
How to Grow Vegetables to Vegetable Gardening
How to Grow Vegetables to How to Garden