Best Tips for How
to Grow Tomatoes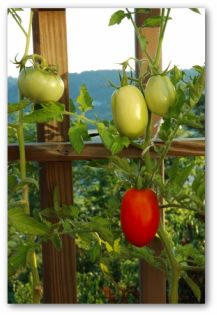 Learn how to grow tomatoes in your home vegetable garden!
Here are the best tips for planting, growing, fertilizing and watering tomato plants.
Design Your Own Vegetable Garden Layout Using our Free "Vegetable Garden Planner" Software!
The tomatoes grown for slicing and eating are generally the largest, juiciest, and most flavorful varieties.
It is easy to learn how to plant tomatoes.
The hardest part is keeping any of the juicy vegetables in the house if you have tomato lovers on the premises!
In warmer regions, tomatoes have a long-growing season and produce a bountiful series of crops.
In colder sections of the country, the entire season may be required to produce a single, high-yield harvest.
Tomatoes come in both early-season and longer-developing types.
The tomatoes with longer growth periods usually have enhanced texture and taste.
How to Grow Tomatoes in Container or Backyard Vegetable Gardens

Tomato plants can be successfully grown in the ground, or in a raised bed or container garden.
Always choose a location with full-sun when growing tomatoes.
Tomato plants flourish with rich soil, and need adequate water when they are growing.
Container grown tomatoes will require more frequent watering than tomato plants grown in the ground.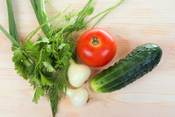 Tomato Crop Yield

Plant 1 tomato plants of each desired variety for each household member if you want enough tomatoes for canning, freezing and eating fresh tomatoes.
Mix early and late cultivars.
Double the amount of plantings if the produce is intended to be crushed for juice.
One or two tomato plants will usually produce enough tomatoes for eating fresh tomatoes for a family of 3-4 people.
Planting Time for Growing Tomatoes

Sow seeds indoors 14 weeks before the garden soil is expected to warm.
Harden seedlings 10 days before transplanting in the vegetable garden bed.
Transplant nursery grown seedlings 6 weeks after all frost danger has passed.
In mild winter climates, plant tomatoes after soil has warmed to 55 degrees F.
In the hottest regions, plant the vegetables in late spring or in early autumn when at least three months of warm weather remains.
Ideal Temperatures for Growing Tomato Plants

Tomatoes like it hot!
The vegetables prefer outside temperatures of 65-90 degrees F.
However, fruit may not set when the temperature exceeds 85 degrees F.
Shade covers may be required to prevent sunburn in direct sunlight areas exceeding 90 degrees F.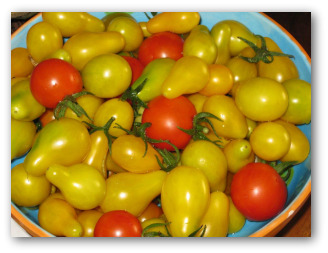 How to Grow Tomatoes -- Soil Preparation

When planting tomato plants, test your garden soil for adequate levels of nitrogen, phosphorous, and potassium.
Check for proper acid-alkaline balance.
Maintain a 5.5-6.8 pH level.
Dig in to a depth of 3 feet a mixture of peat moss, compost, and garden gypsum to prepare the garden bed for growing tomatoes.
Alternatively, you can use decomposed ground bark equal to one half the volume of native soil.
Install wire cages or support stakes.
Download Free Garden Planning Worksheets, Garden Diary, Zone Chart, Or Planting Guide
How to Plant Tomatoes from Seeds or Transplants

Sow several seeds ½ inch deep, 2 feet apart.
Thin successful plants to 42 inches apart.
Plant seedlings two foot apart, in rows spaced 50 inches.
If the tomato plants will require staking, space them 2 feet apart, in rows 48 inches apart.
In cooler climates where there is a shorter growing season, you will want to start tomato seeds indoors or in a green house 4-6 weeks before time to plant outdoors. Or purchase tomato transplants from a nursery or garden center. These small tomato plants can be planted in the garden soil when all danger of frost is past. If a sneak freeze or frost comes along, cover your tomato plants with a metal or plastic bucket, or make a hat or shelter for your plant from newspapers to protect them from being damaged.
How to Grow Tomatoes: Maintenance

When growing tomatoes, keep the soil moist. Take extra care not to wet the foliage, vines, or fruit. Mulch to aid root development and to maintain soil temperatures during cool nights. Apply a low-nitrogen fertilizer only until fruit begins developing. If heat becomes extreme, shade the plants by installing porous shade fabric on wooden supports.
Watering Tomato Plants

Some gardeners discontinue watering tomato plants, or greatly reduce the amount of water once the plant has begun producing small green tomatoes. In our climate zone, this is usually around the 4th of July each summer. The theory behind this is that reducing the water stresses the tomato plant, and causes it to produce more tomatoes, and less foliage. To encourage tomato production, it is also helpful to pinch off new growth shoots once your plant has reached a desirable size.
Tomato Plant Pests

Inspect for hornworm, a very large green moth larva with a voracious appetite for tomatoes (like some members of your household!) that is often camouflaged among the foliage and stems. The pest can be identified by the damage it leaves behind to fruit and foliage.
Vegetable Bedfellows--Companion Planting for Tomato Plants

Companion plants for tomatoes are marigolds, chives, carrots, asparagus, onions, and parsley.
Pitfalls of Growing Tomatoes

Avoid using high-nitrogen fertilizers which produce abundant leaf growth but stunt the fruits.
How to Grow Tomatoes--Days to Harvest

50-90 days for most varieties. Check the label or seed packet for specific growing times on the variety you have selected.
Harvesting Tomatoes

Harvest the tomatoes when full color and desired size is reached, preferably before the first frost. (Who could wait that long!) When harvesting the vegetable, support the vine in one hand and gently pull the fruit to prevent damaging the plant. Pick green tomatoes for frying or pickling.
Storage of Tomatoes

Tomatoes can be stored at room temperature for up to 10 days. Tomato juice can be frozen for up to 6 months, or it can be canned by water bath and stored for one or two years. Pickled tomatoes last up to 2 years in storage.
Learning how to grow tomatoes at home can be a very rewarding project. Tomatoes are one of the easiest vegetable plants for beginners to grow. If you want to start your gardening ventures with just one plant, growing a tomato plant in the ground or in a container would be a great idea!
How to Grow Tomatoes to Vegetable Gardening
How to Grow Tomatoes to Growing Tomatoes