All About How to Grow Peas
Easy tips on how to grow peas when vegetable gardening.
Learn how to plant, care for, and harvest peas grown in your home vegetable garden.
Snap, sugar, or snow peas are one of the earliest crops to grow in a spring garden.
They are easy to grow even for a beginning gardener!
Design Your Own Vegetable Garden Layout Using our Free "Vegetable Garden Planner" Software!
Earliest Crop to Plant and Harvest

Cold weather does not hurt growing peas at all and the year's first crop of peas can be planted in early spring.
Planting early means the vegetables will mature before hot temperatures arrive, and they will be all the sweeter for it.
Like corn, peas begin to lose their sweetness the moment they are picked.
Download Free Garden Planning Worksheets, Garden Diary, Zone Chart, Or Planting Guide
Planting Peas

As with all legumes, peas can take nitrogen directly from the air by enlisting the aid of soil bacteria.
When learning how to plant peas, before planting, moisten the seeds with water and then dust them with powdered legume inoculants, which give the seeds ready access to those needed soil bacteria.
This is all the nourishment the crop will need beyond the fall soil preparation.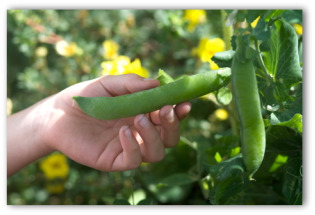 How to Grow Peas

Begin a trench about 4 inches deep and 6 inches wide, sowing the seeds across the bottom of the trench so that some actually touch each other and others are no more than one inch apart.
Many avid gardeners recommend thicker sowing for greater yield when planning how to grow peas.
The dense foliage of the growing peas forms its own natural support.
How to Grow Peas Using Pea Brush

Use a hoe to pull about one inch of soil over the seeds and tamp the soil down.

The taller varieties do very well with an experienced gardeners trick known as "pea brush".

Stick the dead, leafless branches of deciduous trees or shrubs into the soil through the middle of the pea trench to form a continuous natural trellis.

The growing peas will wind around the brush, making expensive wire or plastic netting unnecessary.
Growing Peas

As the season progresses and the plants grow, pull soil in from the sides of the trench to keep the roots cool and deep.

For an early pea harvest, cultivate lightly at least once a week.

Keep the top ½ inch of soil around the growing peas loose.

Pull some of this soil up around the base of the plants to speed the pea harvest by ten days or so.
Harvesting Pea Pods for Stir Fry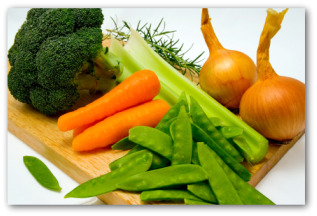 If you plan to use your fresh pea pods for stir-fry, harvest while the peas are very small inside the pods.
The pod should look and feel fairly flat.
If you wait until the peas have grown larger, the pod will not be tender, sweet, and snappy.
How to Grow Peas In Case of a Wet Spring

Of course, a pea trench is only possible in early spring if the soil is dry enough to work.
Since that is not always the case when dealing with Mother Nature, take precautions against a wet springtime by preparing a row in the fall for an early planting of growing peas.
Prepare the soil in a row that borders one of your garden paths.
In the spring, as soon as the ground is workable, lay the pea seeds over the soil, making sure they are treated to prevent rotting.
Push the seeds about one inch into the soil using your finger tip.
Garden Peas Varieties

How to Grow Peas--Which Variety to Choose?
Goliath Snow Pea

Goliath Snow Pea is ready for harvesting in 68 days.
This variety produces high yields of sweet, extra tasty podded peas.
Big, green, stringless pods remain tender even if they are not harvested on time.
A long shelf life helps the peas maintain high quality longer than other varieties.
Plants continue producing as they grow through the season.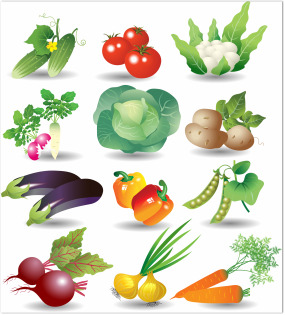 Wando

Wando can be harvested in 70 days.
This variety is drought proof.
Medium height vines have stout stems that keep the pods up off the ground.
Super Sugar Snap

Harvest Super Sugar Snap in 65 days.
Very sweet tasting raw or cooked with outstanding yields of growing peas.
Vines average 5 feet tall and require trellising.
Mr. Big Pea

Mr. Big Pea is ready for picking in 58 days.
This is an All America Selections Winner.
Extra large pods produce 9-10 plump, dark green peas per pod.
Harvesting Peas

When the pea pods look plump, and you can feel solid bumps inside, it is time to harvest the pea pod.
Check plants, and harvest ripe pods every three-4 days throughout the season.
How to Grow Peas to Vegetable Gardening
You Might Also like to Read:
How to Grow Peas to Planting a Vegetable Garden