How to Can Vegetables with a Pressure Canner at Home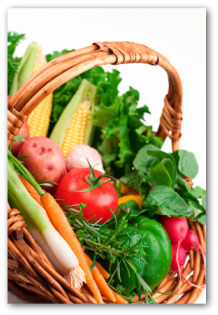 Step-by-step instructions on how to can vegetables using a pressure canner.
Canning vegetables from your home garden or vegetable stand is a simple process.
Learn how to prepare and pressure can your own home-grown produce for use all winter long.
Design Your Own Vegetable Garden Layout Using our Free "Vegetable Garden Planner" Software!
Preserving Vegetables by Pressure Canning

Understanding how to prevent food spoilage is the key to learning how to can vegetables safely and successfully. Invisible microorganisms such as bacteria, molds, and yeasts are all around us.

These spoilers live and breed on all types of food including meats, fruits, and vegetables.
Bacteria, yeasts, and molds are the major causes of food spoilage.
Download Free Garden Planning Worksheets, Garden Diary, Zone Chart, Or Planting Guide
Washing foods is helpful in removing some of the tiny organisms.
Peeling and blanching reduces even greater numbers of the spoilers.
Enzymes change the color, texture, and flavor of the food.
Blanching is a good way to minimize the effects of enzyme activity.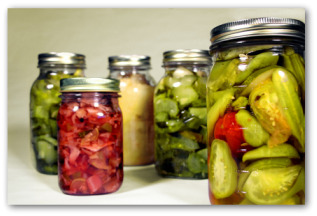 Why Pressure Canning Preserves Vegetables

When discovering how to can vegetables, you learn canning interrupts the normal spoilage cycle by heating the food contained in a Mason jar that has been sealed with a two-piece vacuum sealing lid.
When heat is applied at the correct temperature and held there for the time designated by the recipe, it destroys potentially damaging organisms.
Upon cooling, the lid seals onto the jar.
The vacuum that forms prevents tiny organisms from entering and contaminating your canned goods.
Proper storage and handling of sealed jars also helps ensure home canned foods will be free of contamination.
How to Can Vegetables Step by Step

For this demonstration we are using green beans as the example of how to can vegetables. Follow the instructions that come with your pressure canner for how to can vegetables by individual types.
Pressure Canning Green Beans

1. Read recipe instructions; assemble ingredients and equipment before beginning. Follow guidelines for preparation, jar size, canning method, and processing time. Do not make any changes to recommended directions.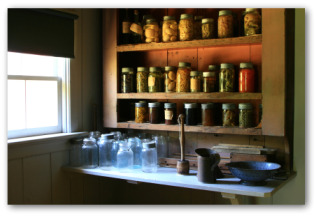 2. Examine Mason jars for sharp edges, nicks, uneven rims, or cracks. These may prevent proper sealing or cause glass to break. Inspect canning lids to ensure they are free of dents. Check bands for correct fit. 
3. Wash jars and lids in soapy, hot water. Rinse. Set dried bands aside. Heat jars and lids in a saucepan of simmering water of 180 degrees. The lids should not be boiled. Leave lids and jars in the hot water bath until you are ready to can vegetables. Remove as needed.

 4. Select fresh green beans. Wash beans in several changes of water if needed. Drain. 
5. Remove strings and trim ends. Cut or break beans into uniform pieces if desired.

6. Fill hot canning jars with beans, leaving 1 inch headroom. 
7. If desired, add a half teaspoon of salt per pint or one teaspoon of salt per quart. Cautiously, ladle boiling water over beans, leave one inch headspace. 
8. Slide a plastic spatula between green beans and jar. Press back gently on beans to release any air bubbles that are trapped. Repeat this step several times. 
9. Wipe rim and threads of jar with a damp cloth. Use a lid wand to remove lid from hot water. Place lid on jar. Twist band down firmly.

 10. As each jar is filled, set it into the rack in the steam-pressure canner. The canner should contain two to three inches of hot water. Keep water at a simmer of 180 degrees until all filled jars are placed in the canner. Check the water level. If necessary, add boiling water. 
11. Put the lid on the canner. Turn to lock lid in place. Bring water to a boil by adjusting heat. Allow steam to escape continuously for ten minutes with the vent open before placing the weight onto the vent.

 12. For altitudes below or at 1,000 feet above sea level, bring pressure to 10 pounds. The steam-pressure method is used for low-acid foods. When using a dial-gauge canner or processing at higher altitudes, pounds pressure should be adjusted accordingly. Keep pressure steady during entire processing period. Process pints 20 minutes. Quarts 25 minutes. When completed, turn off heat.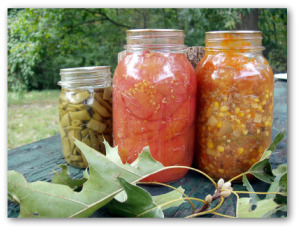 13. Let pressure return to zero naturally. Wait 2 minutes, then open vent. Unfasten lid, when lifting the lid, use caution that the escaping steam does not hit you in the face. Leave canned vegetables in canner for ten minutes as they adjust to the cooler temperature. Remove jars and set them a couple of inches apart on a dry towel to cool for 24 hours. Cover jars with a dry towel to prevent drafts from reaching jars.

14. After jars have cooled, check lids for a seal by pressing on the center of each lid. If the lid "clicks" when pressed, it means that the jar has not sealed. Remove the band and gently try to lift the lid off. If it cannot be lifted off, the lid has a good vacuum seal. Label and store jars in a cool, dry location.

Learning how to can vegetables is easily accomplished. However, it is very important that all safely instructions are closely followed when pressure canning vegetables. Once you get the hang of it, you will be able to enjoy your own garden vegetables all winter long.
How to Can Vegetables to Vegetable Gardening
How to Can Vegetables to Canning Vegetables