Heirloom Seeds:
A Time-Honored Tradition for Sustainable Vegetable Gardening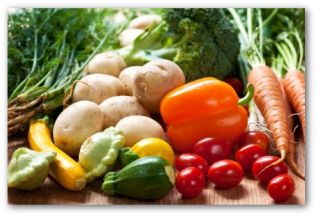 Choose heirloom seeds  for sustainable vegetable gardening.
Share your garden seeds with friends and neighbors, and save some for your next year's garden.
Planting and harvesting heirloom variety seeds from your vegetable garden is a good way to participate in the natural cycle of life.
Planning a vegetable garden this year?
Consider choosing seeds when planting your organic vegetable garden.
Family favorite vegetable varieties can be handed down from generation to generation through heirloom seeds.
Vegetable gardening is part of our heritage, and a great hobby for the entire family!
Design Your Own Vegetable Garden Layout Using our Free "Vegetable Garden Planner" Software!
Use of antique tools, time honored techniques, and planting seeds are hallmarks for gardeners whom vegetables gardening evokes memories of the past.
Many times such gardens reflect cultural origins, recall time spent with grandparents in the garden, and continue traditions passed down within the family.
Some collectors of seeds believe the term stands for seeds that have been grown for a certain time period such as one hundred years.
Other planters of the seeds claim that true heirlooms can only be named as such if they have been passed down from previous generations.
Heirloom vs. Non-Heirloom seeds: The Difference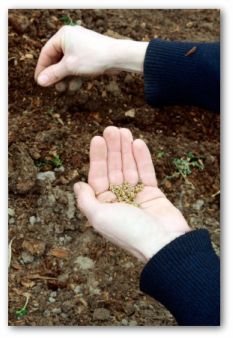 In general, an heirloom is a variety that is at least 40 to 50 years old, is no longer available in the commercial seed trade.
It is seed that has been preserved and kept true in a particular region.
Some non-heirloom seeds are also great choices when gardening. In fact, any open-pollinated vegetable seed can become an heirloom eventually if it becomes a gardening favorite.
Why Choose Heritage Seeds?
Heirloom or heritage garden seeds are making a comeback, mainly because they provide a proven tasty glimpse of the past.
The seeds have been specifically selected to be saved for planting because they have shown to produce a superior product.
Download Free Garden Planning Worksheets, Garden Diary, Zone Chart, Or Planting Guide
For instance, you may have seeds handed down from your grandmother which produced the largest, tastiest tomatoes in the county.
Maybe her mother before her planted the seeds, then they were saved after harvest each year, and replanted.
Each season the vegetable stayed true to its original parent plant.
Where to Purchase
Heirloom-Variety Seeds
Seeds of the heirloom-variety may be purchased from garden supply centers, but many gardeners feel true heritage garden seeds must come from vegetables gardening relatives, neighbors, and friends.
One of my favorite sources of seeds is Territorial Seed Company. Click Here to order their free gardening and seed catalog.
Some collectors consider seeds in the truest sense of the word to have been grown, selected, and handed down from one family member to another for generations.
Flavor Favorites become Heirlooms
Vegetables grown from heirlooms tend to have a better flavor.
Additionally, heirlooms are quite hardy, considering their longevity.
The year 1951 is considered by many gardeners to be the cutoff date a plant can have originated and be called an heirloom seed producer because that year was when the widespread introduction of the first hybrid varieties began.
Begin Your own Heirloom Collection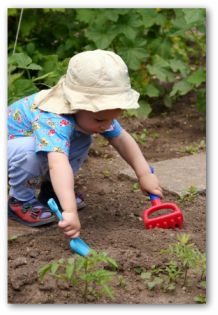 Start your own heirloom garden seed collection!
Saving seeds ensures choice selections for the next growing season.
Saved heritage seeds produce garden treasures when sown.
When seed is to be saved from the garden, allow fruit to mature on the plant, then store for another season.
These varieties can be counted on to produce vegetables that resemble that of the parent plant.
Normally, signs of full seed development within the vegetable are an outside color change such as the bean pods turn brown, peppers become bright red, and the skin of squash becomes golden yellow.
When this occurs the fruit can be picked, the seeds extracted, air dried in the shade, then stored or planted.
Heirloom or any other type of seeds that have been stored, sometimes for decades, are kept sealed in cool dry conditions.
Jars with tight lids are ideal but air tight containers or resealable bags can be used.
To reduce moisture in the containers, some gardeners add a tablespoon of dry powder milk wrapped in a paper towel. This absorbs much of the moisture that might encourage growth or a deterioration of the seeds.
Claim a shelf in the refrigerator to store the heirloom seeds.
Cool temperatures in the high 30s to 40s are ideal.
Do not place the seeds in the freezer which could possibly damage them.
Make sure to write the date on the container.
Include Your Family in Your Vegetable Gardening Adventures
Organic gardening with heirloom seeds is a great way to begin family traditions that can last for generations.
Kids and grandchildren can learn to love helping in the garden!
They will usually enjoy planting seeds and watching them grow.
Some of their happiest memories from childhood will likely be about gardening with their parents or grandparents!
Heirloom Seeds to Vegetable Gardening
You Might Also like to Read: