Growing Vegetables in Containers for Your Family
Looking for tips for growing vegetables in containers?
You've come to the right place!

Learn how to choose containers, plant and care for a container garden conveniently located on your porch, patio or even in a window box.
Design Your Own Vegetable Garden Layout Using our Free "Vegetable Garden Planner" Software!
An organic container garden is ideal for vegetable gardening with limited space. Container plants can also add versatility to large gardens.
The potted growing vegetables lend instant color, provide a focal point, or tie in the architecture of your house to the planted area.
Containers of various styles can be placed on the ground, atop pedestals, mounted on a windowsill, or be placed on your porch, deck or patio.
Choosing Containers for Your Garden

Each type of container has merits as well as disadvantages.
Clay or terra cotta pots are attractive but easily damaged by freezing and thawing.

Concrete is long lasting and available in a variety of designs and sizes. You could even design your own!

A drawback is the plain concrete tends to be heavy for a garden on the move!

By mixing the heavier material with vermiculite or fiberglass blends will make the objects much lighter.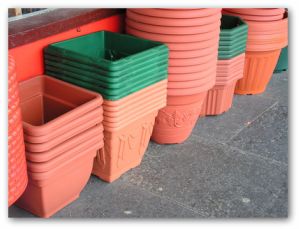 Plastic Pots Make Great Containers
Download Free Garden Planning Worksheets, Garden Diary, Zone Chart, Or Planting Guide
Plastic and fiberglass are lightweight, inexpensive, and come in a many shapes and colors.

Choose sturdy and flexible pots that will not become brittle and crack with age.

Wood containers are natural looking and compliment the theme of an organic contain garden.

Wooden pots help protect the roots of the vegetables from rapid temperature swings.

 Making a wooden container would be a great do it yourself project.

Use rot resistant wood and protect it with paint or a stain.

Do not use creosote, which is toxic to plants.

Molded wood-fiber containers are solidly made and not expensive.
Growing Vegetables in Containers : Making a Moss-Lined Basket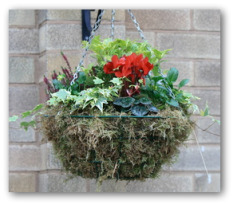 Moss-Lined Basket
A moss lined hanging basket is typically fashioned from a simple wire frame and lined with sphagnum moss.
Both the wire and moss can be purchased from your local garden center.
This simple container is perfect for displaying lush vegetables or flowers growing from all sides.
Soak the moss in water to make it pliable. Squeeze out the excess moisture.

Place the moss in a wire frame and press it into an even 1-inch layer. Add or remove moss as necessary.

Cover up any visible wire on the outside of the basket by pressing additional moss around it.

Next, attach a wire hanger, hang the basket, and trim any dangling moss.

 Some pieces of moss left hanging down give the container a natural look.

In a separate bucket, mix enough potting soil to fill the basket with a couple of handfuls of peat moss to help retain moisture.

Cover the bottom of the container with the soil mixture.

Use a pencil to poke a hole through the moss near the bottom of the basket.

Remove a vegetable seedling from its cell pack and insert through the hole.

Firm the moss around the seedling on the outside.

 Repeat to make a row all around the basket.

Cover the roots with soil.

Continue planting in rows to within 2 inches of the top of the basket.

Plant a few seedlings at the top of the basket and then water.
Growing Vegetables in Containers : Planting a Container Garden in a Window Box

A window box of growing vegetables pleases the eye and the palate from both inside and outside your home.
Almost any vegetable or herb can be grown in an organic container garden.
Dwarf and compact cultivars are best.
Select plants to suit the climate where you live.
Use your imagination and combine upright and trailing vegetables for eye-pleasing and tasteful effects.
Water container plants thoroughly.
Do not let the soil dry out completely as it will be difficult to re-wet.
Caring for Growing Vegetables in Containers

When growing vegetables in containers, add diluted liquid plant fertilizer to your garden every week or two, following the directions on the fertilizer container.
Make sure your containers are watered as needed.
Once a day is usually necessary, and twice a day may be necessary during hot windy weather.
Check the soil. It should feel damp about one inch below the surface. If not, it is time to water again.
Make sure all your containers have adequate drainage holes in the bottom.
The soil should not be soggy-wet except at the moment you apply the water.
The water should moisten the soil, and drain quickly.
You Might Also like to Read: