Growing Rhubarb at Home
Easy tips for growing rhubarb when backyard vegetable gardening.
Learn how to plant, grow, care for, and harvest rhubarb in your home vegetable garden.
What tastes fresher in the spring than extra tender, sweet, tart rhubarb!
Design Your Own Vegetable Garden Layout Using our Free "Vegetable Garden Planner" Software!
Its long, pink stalks are delicious in many dishes, especially buttery-crusted rhubarb pie.
As a bonus to making the pies, once the perennial plants are established, yields increase every year.
Planting Rhubarb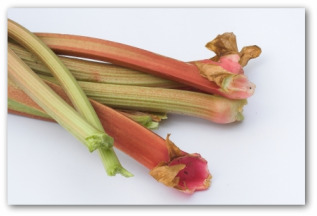 In preparation for planting Victoria rhubarb, dig a hole 2 feet deep and just as wide.

Put half a bushel of compost in the hole to keep the plant nourished through its long life.

Then position the clump in the hole so that the crown of the plant is deep enough to be covered approximately 2 inches of soil.
Download Free Garden Planning Worksheets, Garden Diary, Zone Chart, Or Planting Guide
How to Grow Rhubarb

Once the rhubarb is set in, refill the hole with equal parts of topsoil, compost, and peat moss.

Add a handful of slow-release fertilizer for good measure.

Rhubarb plants are heavy feeders and without this ample menu they tend to become thin-stalked and scrawny.

Continue to feed the plants throughout their lives, mulching them with a 2 layer of manure every fall.
 The first year after planting rhubarb, let the plants grow without harvesting to aid their building strength for the harvests to come.

The second year, pick the rhubarb modestly, so that the third and fourth years will yield tremendously.

In the fifth year, divide the plants again.
Don't Eat Rhubarb Leaves or Roots

Only the Rhubarb Stalks are Edible
Incidentally, the garden folklore about rhubarb leaves being inedible is true.
They contain acid crystals that will irritate the inside of your mouth and should not be eaten.
Enjoy the stalks, especially in rhubarb pie a la mode, but leave the leaves and roots alone!
Dividing and Replanting when Growing Rhubarb

From a parent of the any growing rhubarb variety, you can start a new plant by division.
Cut its roots and crown into small sections, saving one of the clumps to plant in your vegetable garden.
Rhubarb is a great plant to divide and share with your friends and neighbors.
Many gardeners are happy to dig a start of their favorite rhubarb varieties to give a fellow gardener for planting in their garden.
Planting Rhubarb from Seed

Rhubarb is easily raised from seed and possibly the most commonly grown.
After one year's growth, you can pull juicy, medium sized stalks.
The plants have good productivity, growing thick, large, red stalks.
The late forcing variety produces flavorful stalks that are round, long, and with smooth ribs.
When hybrid seeds are planted, their offspring will not necessarily be true to the parent.
You will get a mix of plants ranging in colors with a few plants having red, green or partly red stems.
If you have a fondness for strawberry-rhubarb pie, you would probably be content with growing a dozen rhubarb plants.
But they are so space hungry that only one plant may have to be sufficient for those with smaller gardening spaces.
This single plant will produce a modest supply of attractive stalks for most of the summer.
Growing Rhubarb in a Perennial Border

Growing rhubarb makes a showy planting in the perennial border.
In conceiving a perennials border, the placement of plants is the key to success.
Plant colorful clusters with several plants of a chosen type.
Isolated single plants leave your garden looking like clowns' pants. (Unless you like that look!)
Designing a Perennial Border

Plant according to plant height, basically putting the tall plants in the back; the shorter ones in front.
Just like in school when the taller kids are made to always stand in the background for the class pictures.
However, you do not have to be rigid in your gardening plans.
To create a pattern that appears to move instead of marching in single file, plant in waves.
For example, occasionally, bring in a plant that is medium sized to the foreground and place a tall plant in the middle.
Growing Rhubarb to Vegetable Gardening
You Might Also like to Read:
Growing Rhubarb to Planting a Vegetable Garden