Growing Peppers in a
Home Vegetable Garden

Find the best plans for growing peppers, including habanero and jalapeno peppers here on our gardening website!
Learn how to grow green, red, orange, yellow, and hot pepper varieties in your home garden!
Or learn how to grow red, green, and yellow bell peppers in your home or container garden.
Growing chili, banana, cayenne or any other pepper variety is quite easy even in a beginner vegetable garden!
Design Your Own Vegetable Garden Layout Using our Free "Vegetable Garden Planner" Software!
A garden full of growing peppers can be a vibrant display of reds, yellows, and greens.
Peppers not only add a delightful flavor to many dishes such as stir fry but also add an enticing rainbow of color to all your tasty recipes.
If you are unsure which type to grow, plant a colorful variety!
Peppers are very easy to grow in your home vegetable garden, container garden, or raised vegetable garden.
They can be grown by starting seeds, or by purchasing small plants at your local garden store.
Download Free Garden Planning Worksheets, Garden Diary, Zone Chart, Or Planting Guide
A word from experienced gardeners is not to plant peppers where you previously grew potatoes, eggplants, or tomatoes.
These plants are all prone to the same soil borne diseases.
Peppers are natives of the tropics and require full sun to thrive.
They do not like frost, or freezing weather.
Recommended sweet varieties of growing peppers are Yolo Wonder, Big Bertha, and Sweet Banana peppers. Hot varieties include Jalapeno, Mexi Bell Hybrid, and Super Chili Hybrid.
How to Grow Red, Green, and Yellow Sweet Bell Peppers from Seeds or Transplants

Start seed indoors eight weeks before you want to set your pepper plants outdoors.
Or you can purchase small pepper plants from your local garden center in the late spring when gardening plants and supplies appear.
Transplant into your garden a month past the last frost, after the soil temperature reaches at least 65 degrees.
Spice it Up by growing Cayenne, Chili, Jabanero, Jalapeno, and other Hot Pepper Varieties

Seeds germinate slowly during cool months. Seed germination takes an average 10-14 days.

From seeds to harvest is 80-100 days.

From transplants to harvest in 60-80 days.

If you love peppers, plant 3-5 plants per person.
 If you have extra peppers at harvest time, you can slice them, blanch them, and put them in the freezer.
Pepper Plant Spacing

Spacing growing peppers between rows should be 20-36 inches.
Space between plants needs to be 12-24 inches, with seeds planted at a soil depth of ½ inch.
Pepper Plants Need Rich, Well-Drained Soil

Growing peppers like a well-aerated bed whether it is in-ground, a container garden, or a raised bed vegetable garden.
Turn soil to one foot deep for in-ground gardens and improve the soil with twenty pounds of compost per each hundred feet.
Use a good quality garden or potting soil for a container or raised bed garden.
How to Water Growing Peppers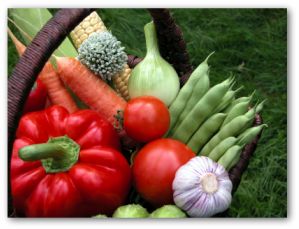 Peppers need moderate wetness around the roots.
 Watering overhead when plants are in bloom washes away pollen, which results in less or no produce.

Water with a drip irrigation system if possible.

If plants produce stems and foliage but little fruit, try adding a low nitrogen fertilizer.
Feed every 2-3 weeks during early stages of growth and every 3-4 weeks afterward.

Spread light mulch thickly around the growing peppers to conserve moisture but keep it a few inches from the plant base.
Mulching stretches the time necessary between watering.
Major pepper plant pests are pepper weevil, frogeye leaf spot, caterpillars, and aphids.
Pepper plant branches are brittle and break easily, so it is good advice to stake tall plants.
At harvest time, snap or clip with shears, firm ripe peppers from plants as needed.
If left on the plant until fully mature, peppers often become larger and turn red.
Plants may grow and produce for several seasons in warmer climates.
Growing Organic Pepper Plants

You can grow peppers in an organic vegetable garden. Use organic seeds or plants, and fertilize or enrich your soil with organic fertilizer such as compost, or well-aged manure.
Question about growing peppers...Our pepper foliage is covered with brown oval spots.
The leaves gradually drop and the plants look bare. Will the plants ever produce peppers?
Warm, humid weather encourages leaf spots. Your plants are infected with a fungal disease called frogeye leaf spot.
The disease spreads quickly among the plants.
When major leaf loss occurs, the plants will not be productive and often decline totally.
Fight frogeye leaf spot with maneb or a copper fungicide.
Make sure the leaves are covered completely with the fungicide in order to protect all the unaffected foliage.
You Might Also like to Read: