Home Grown
Fresh Corn Recipes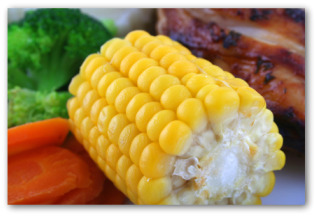 Best fresh corn recipes; everything from how to cook fresh corn on the cob from your garden, to fresh corn relish, corn fritters, and creamy corn and carrots.
Design Your Own Vegetable Garden Layout Using our Free "Vegetable Garden Planner" Software!
A friend recently told me about her brother saying at the dinner table, "I'm getting tired of eating this corn".
This was when he was on his 6th ear!
Download Free Garden Planning Worksheets, Garden Diary, Zone Chart, Or Planting Guide

Here are some fresh corn recipes to cook so your family will never tire of being served this delicious vegetable from your garden!
Buttered Corn on the Cob

Cook's tips: Add sugar, not salt, to the cooking water for corn on the cob.
Cook corn for 2 people in a skillet.
For extra seasoning: Add a little cream, peanut butter, garlic salt, curry powder, chives, celery seeds, crisp bacon bits, or chopped stuffed olives.
Seasoned Butter for Fresh Corn on the Cob

Add dried thyme or oregano to season soft butter in bowl.
Refrigerate.
Meanwhile, into 1 to 2 inches of boiling sugared water, about one teaspoon of sugar per one quart water, drop only number of ears of corn you plan to serve immediately.

Boil corn, covered, 5 to 6 minutes.

Serve with seasoned butter.
Fresh Corn Relish

The bright yellow corn is accented with bits of green and red peppers in this installment of fresh corn recipes. Makes about 7 pints.
6 cups corn kernels freshly cut from about 18 ears of tender sweet corn
3 cups seeded, chopped green peppers
2 cups seeded, chopped sweet red peppers
2 cups thinly sliced unpeeled cucumbers
2 cups coarsely chopped onions
4 cups peeled, chopped ripe tomatoes
4 cups cider vinegar
2 cups sugar
¼ cup pickling salt
2 tablespoons celery seed
1 tablespoon mustard seed
1 tablespoon turmeric
Instructions:

Place all ingredients in a canner or large kettle that holds 6 quarts or more.

Stir over medium heat until mixed and sugar dissolves.

Turn heat to high and bring to a full boil. Stir as needed.

Turn down heat and let the corn relish boil gently for 10 minutes, covered.

 Ladle relish into clean, hot pint jars, making sure corn is packed loosely in the liquid.
Add lids and process for 15 minutes in a boiling-bath water.
Summer Fresh Corn Recipe

¼ cup minced onion
2 tablespoons butter
2 cups cooked whole-kernel corn
Dash pepper
½ teaspoon sugar
1 teaspoon lemon juice
¼ cup minced watercress or parsley
Instructions:
Sauté onion in butter.

Add corn, pepper, sugar, lemon juice, and watercress or parsley.

Heat.

Makes 3 servings.
Creamy Corn & Carrots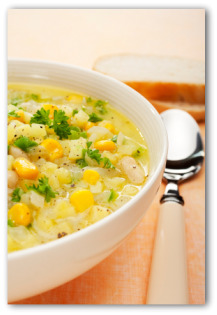 6 medium carrots, sliced, pared
1 medium onion
½ cup milk
2 cups cooked whole-kernel corn
2 tablespoons butter
1 tablespoon flour
¼ teaspoon salt
Dash pepper
Instructions:

Cook carrots and onion in a little boiling salted water, covered, until tender.

Drain.

Add milk, corn.

Heat to boiling.

Meanwhile, mix melted butter and flour until smooth paste is formed.

Whisk into vegetables.

Cook, stirring gently, until smoothly thickened.

Add salt and pepper to taste.

Makes 4 servings.
Corn Fritters, Northern style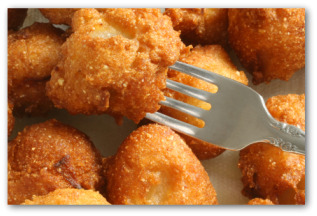 Ingredients:

3 egg yolks
1 2/3 cups cooked whole-kernel corn
½ teaspoon salt
Dash pepper
¼ teaspoon Accent flavor enhancer
¼ cup sifted all-purpose flour
3 egg whites, stiffly beaten
6 tablespoons vegetable oil
Directions:

Beat eggs yolks well.

Add corn, salt, pepper, monosodium glutamate, flour.

 Fold in egg whites.

Drop by tablespoons into hot oil in skillet.

Cook on both sides until brown and done.

 Serve as a vegetable with chicken, pork, beef, or fish.
 Serve as a main dish with maple syrup and butter.

Tasty also with buttered carrots.
Other Fresh Corn Ideas

Use fresh corn in soup, chowder, boiled, steamed, creamed, roasted, in fritters, in combinations with other vegetables, scalloped, in pies, breads, muffins, pancakes, tortillas, breakfast cereals, pickles, relishes, and parched!
We have even seen fresh corn recipes for corncob jelly!
Fresh Corn Recipes to Vegetable Gardening