My Favorite Blueberry
Pie Recipe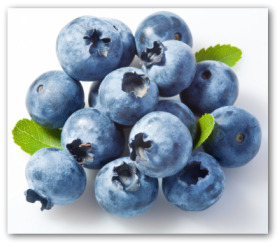 The best homemade blueberry pie recipe made with fresh or frozen homegrown blueberries and a rich butter crust.
Design Your Own Vegetable Garden Layout Using our Free "Vegetable Garden Planner" Software!
Easy to follow directions for preparing this delicious pie for your family today.
No one can doubt that summer brings quality culinary rewards that do not exist at other times of the year!
First to arrive are the strawberries, then blueberries, quickly followed by red raspberries, black raspberries, gooseberries, and finally blackberries.
Berries freeze wonderfully for at least a year, so this pie can be made any time of the year using your fresh or frozen blueberries.
We wanted to share a blueberry pie recipe with you in celebration of this sweet, tart berry!
Download Free Garden Planning Worksheets, Garden Diary, Zone Chart, Or Planting Guide
Tips for Making Blueberry Pie

If storing berries for a day or so in the refrigerator before whipping up the blueberry pie recipe, do not wash them until right before using them to prevent deterioration.

Blueberries have a pleasing balance of sweetness to tartness, requiring little if any sugar when eaten raw, but require more sugar than some other berries when cooked, to help enhance their mild flavor.

Cooked berries in general become jammy and seedy in texture and lose much of their sweetness.
This makes it necessary to add as much as six times more sugar than uncooked berries when making berry pie!
Blueberry Pie Recipe

If you love eating blueberries served with whipped cream or sour cream, you are going to adore the following fresh blueberry pie recipe.
The addition of lemon zest and a sensible amount of sugar help make this pie retain the sweetness of freshly picked berries.
Rich Butter Pie Crust

Ingredients:

14 tablespoons cold unsalted butter
2 ¼ cups bleached all purpose flour
¼ teaspoon salt
¼ teaspoon baking powder
5 to 7 tablespoons ice water
1 tablespoon cider vinegar
Place the flour, salt, and baking powder in a medium bowl and whisk to combine them.

Mix the butter into the flour until it looks like coarse meal.

Use a spoon to put the mixture into a gallon size freezer bag.

Use a rolling pin to flatten the butter into flakes. Place the bag in the freezer for 10 minutes.
Transfer the mixture to a chilled mixing bowl.

Sprinkle the ice water and vinegar onto the mixture.

Spoon the mixture back into plastic bags, dividing it in half for a double crust pie.

Knead the mixture until it holds together in one piece.

Wrap the dough with plastic wrap, flatten it into two discs and refrigerate for at least 45 minutes, preferably overnight.
Blueberry Pie Recipe Filling

Ingredients:

4-5 cups rinsed and dried blueberries (fresh or frozen)
Pie crust for a 2 crust 9 inch pie
½ cup sugar
2 tablespoons cornstarch
½ teaspoons finely grated lemon zest
2 tablespoons freshly squeezed lemon juice
Pinch of salt
Dash of cinnamon (optional)
How to Make Blueberry Pie:

Remove the dough for the bottom crust from the refrigerator.

If necessary, allow it to sit for about 10 minutes, until it is soft enough to roll.

On a floured pastry cloth, roll the bottom crust 1/8 inch thick and 12 inches in diameter.

Transfer it to the pie pan.

Trim the edge almost even with the edge of the pan.

Cover it with plastic wrap and refrigerate it for a minimum of 30 minutes and a maximum of 3 hours.
Meanwhile:

In a medium sized bowl, stir together the lemon juice, lemon zest, cornstarch, sugar, and salt.

After adding the blueberries, toss to coat them in the mixture.

Fill the pie shell with the blueberry mixture.
Next Step:

Roll out the top crust large enough to cut a 12 inch circle.

Use a cardboard template if desired as a guide to cut out the circle with a sharp knife.
Moisten the edges of the bottom crust with water and place the top crust over the fruit.

Tuck the overhang under the bottom crust border and press down all around the top to seal it.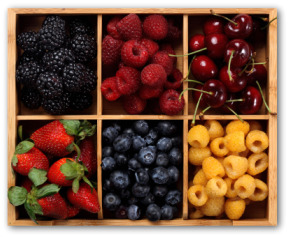 Crimp the border using your fingers.

Cut steam vents by making about 5 evenly spaced 2 inch slashes with a knife starting about one inch from the center and radiating toward the edge.

Cover the pie loosely with plastic wrap and refrigerate it for on hour before baking to chill and relax the pastry.

This maintains flakiness and helps keep the crust from shrinking.

If desired, brush the top crust with egg white, or sprinkle with sugar and cinnamon.

 Place in oven set to 425 degrees F.

Reduce heat to 350 after 15 minutes.

Baking time is 50-60 minutes or until crust is browned.

Serves 6.

Cool the blueberry pie for at least 4 hours before cutting.

The pie can be stored at room temperature for up to three days, if it lasts that long!
Blueberry Pie Recipe to Vegetable Gardening
Blueberry Pie Recipe to Growing Blackberries